When you have a smoking Traeger Pro 575 loaded up with hickory and some beautiful whole roasting ingredients ready to go, it is truly the most wonderful time of year. I have been using my Traeger for about a year now and I fall in love with it more and more every time I get something new to cook with it…this time its whole roasted prime rib, salmon, and the unbelievably delicious celery root. I'm going to walk you through how I go about whole roasting these three items with my set-up, but if you don't have a Traeger Pro 575, I'd highly recommend getting one as a early x-mas present because it is truly the gift that keeps giving… PERFECT GIFT FOR THE HUBBY! Also, to make things WAY easier, The Home Depot includes FREE delivery when you purchase from them online, and free-assembly when you purchase in-store…I'm all about that free-assembly life.
One last thing before the recipes! I'm GIVING AWAY a brand new Traeger Pro 575 to one of you lucky folks and all you have to do is comment on this post (or on my Traeger Instagram post) letting me know what would be the first thing you'd cook in your grill if you win! OK, enough said, recipe time.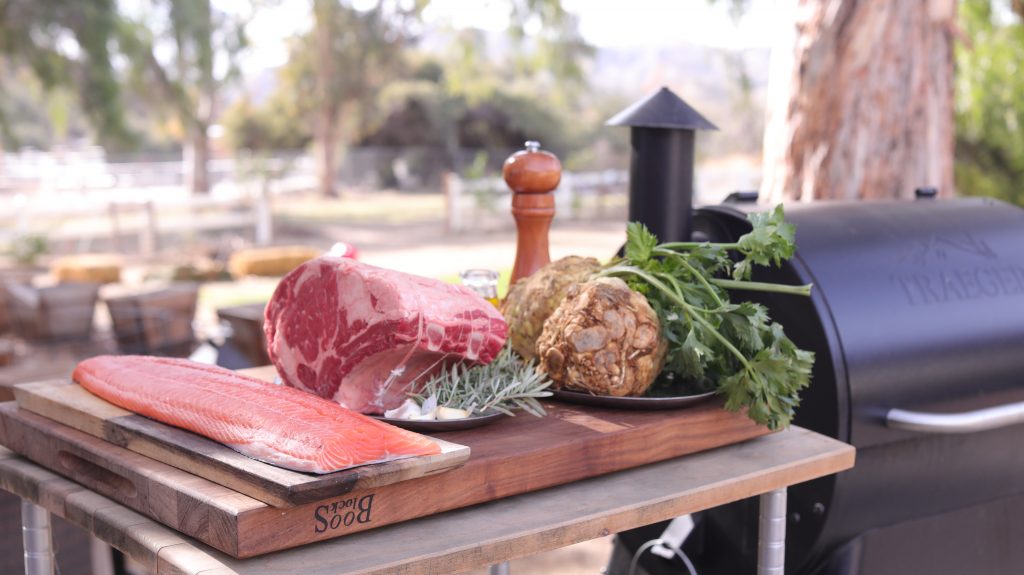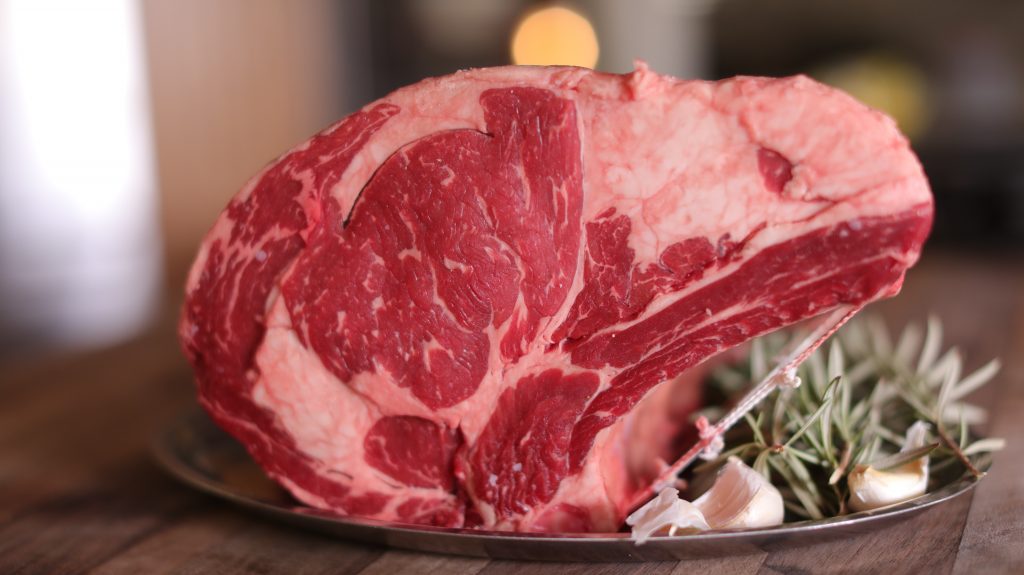 First thing on the list is the Prime Rib and this one is about 6-7 lbs. If you notice there's almost ZERO moisture on the meat because I let it sit in the fridge uncovered for 24 hours before cooking and I also diligently pat it dry with a few paper towels before seasoning. You can basically tell that the meat is "dry" enough when salt can barely stick to the surface.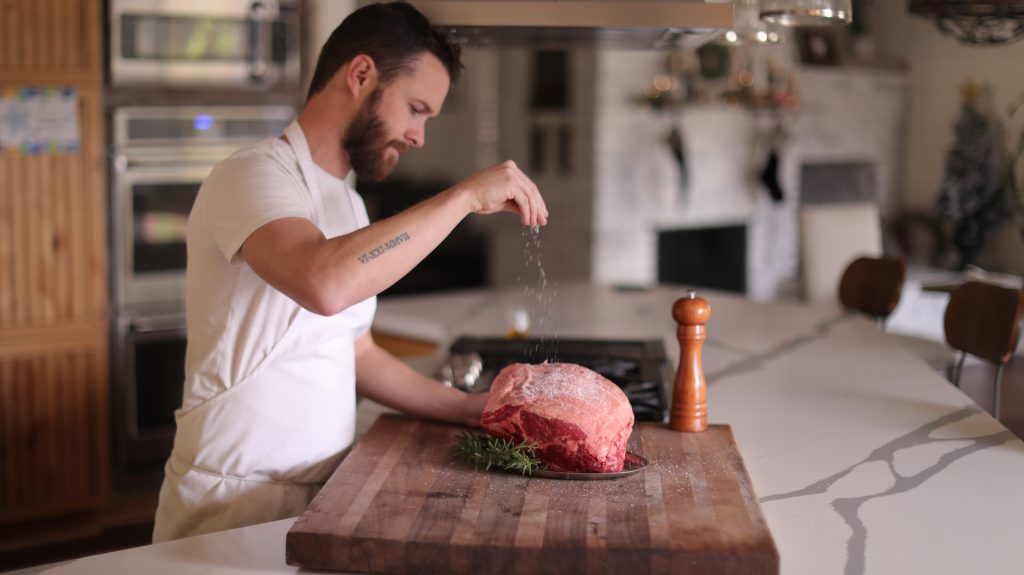 Once you start to season the meat and work with it a little, the seasoning will stick to it just fine, but the goal is to try to avoid a soggy cut of meat that will end up wanting to boil rather than caramelize. With a cut this big, you want to heavily season it since there's actually very little surface area compared to its volume.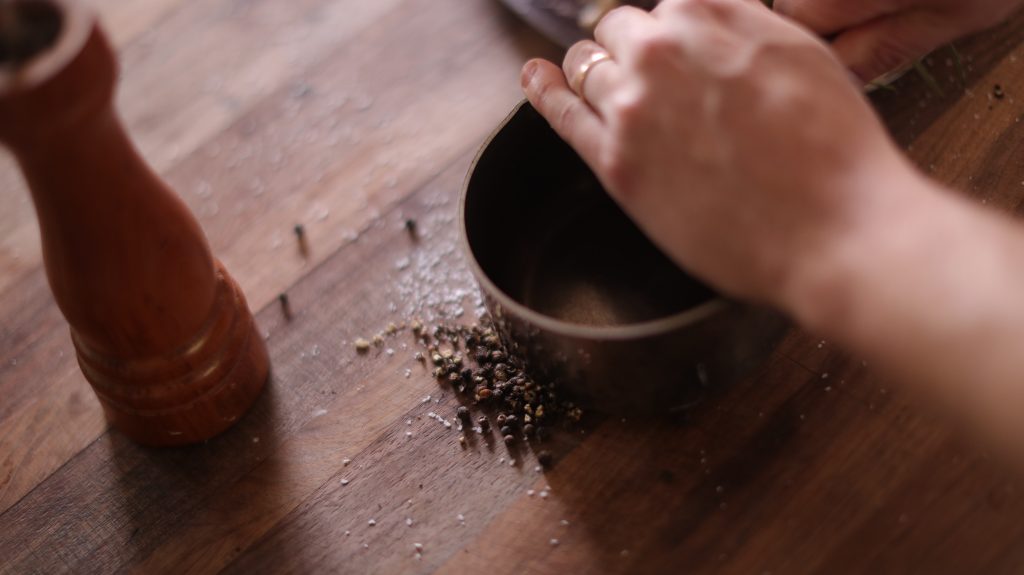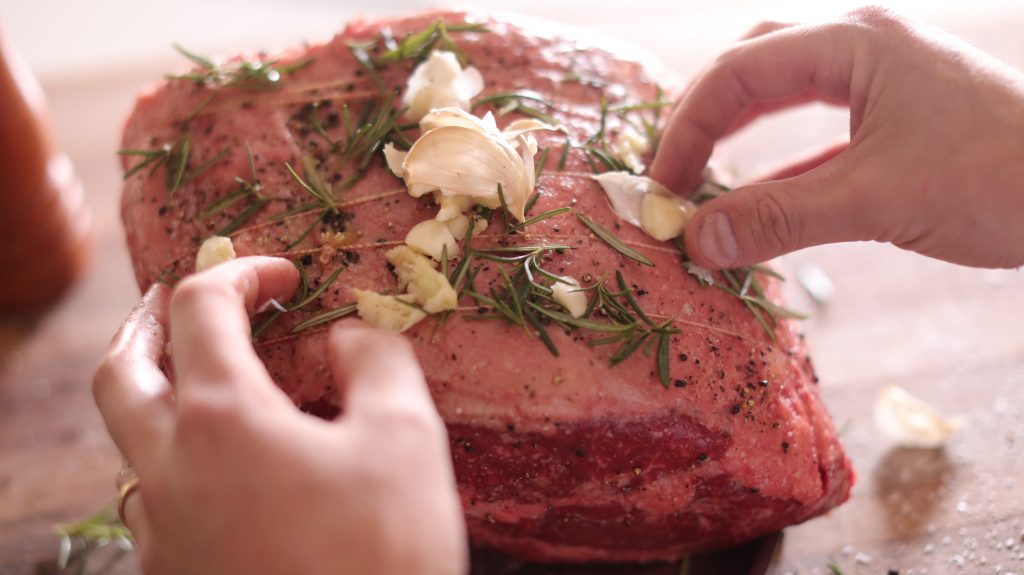 So here I've seasoned it with kosher salt, fresh cracked black pepper, rosemary leaves, and crushed garlic. I tend to stay away from stuffing the garlic and rosemary into the meat since I really am a stickler for clean slices of prime rib. The more you stuff, the more a cut like this starts to morph into something too complex than it needs to be.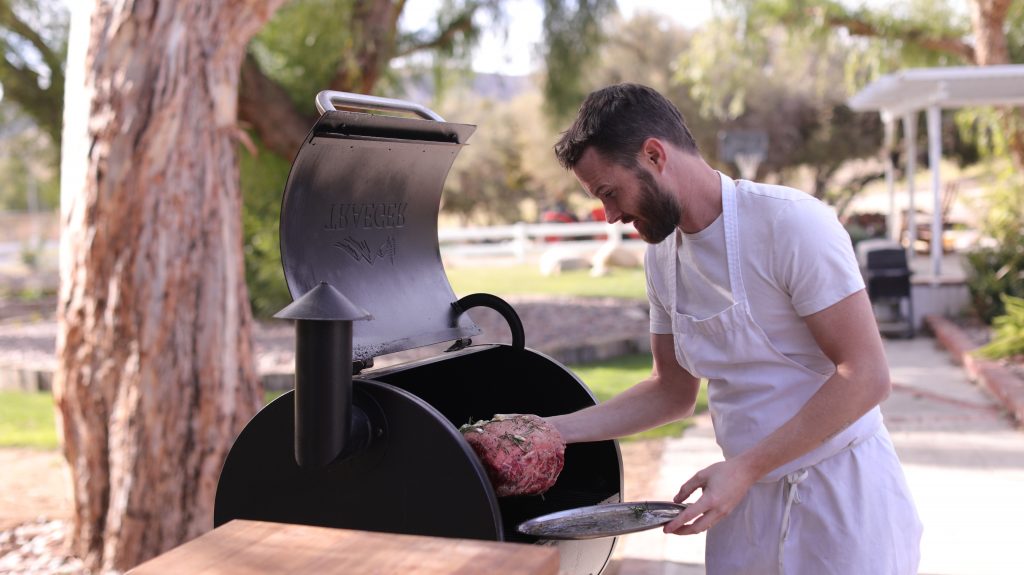 I set my Traeger Pro 575 to 275f˚ with their hickory wood pellets (the aroma is incredible) and will be cooking this for about 1 hour to break the chill and start the "slow and low" cooking process for an even colored slice of prime rib later on. Now its on to my celery root!
I'm sure there's quite a few of you who know what this awkward looking root is, but I have a feeling that there's more folks out there that have no clue what this is and even more so, how to cook with it. It's incredible as a puree, soup, and mashed, but today its all about whole roasting.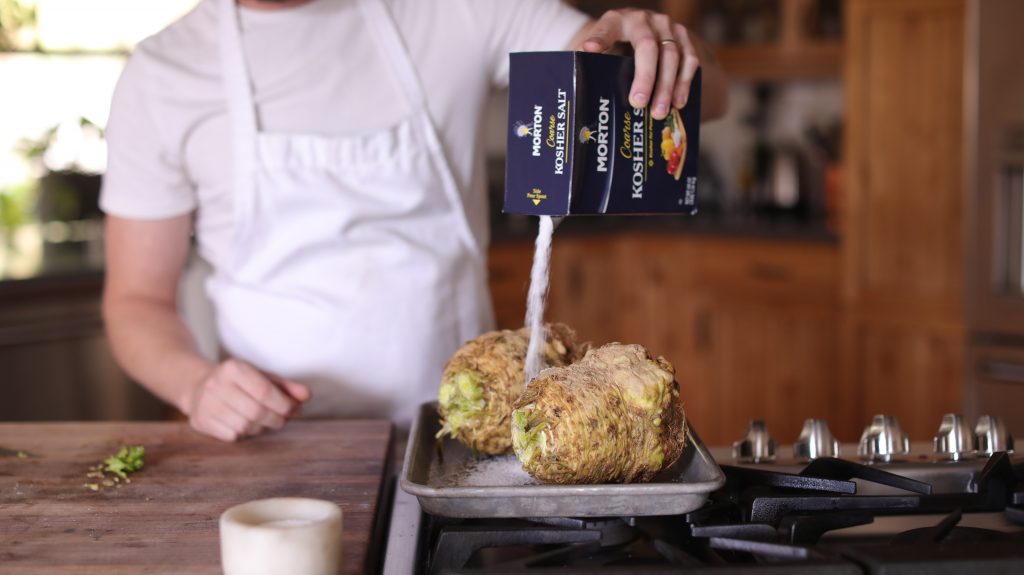 This is about as simple as it gets. Pour a generous amount of kosher salt into a small sheet tray, put the cleaned celery root on top of the salt bed and its time to cook these beauties.
Before you add the celery root to your grill, turn the heat up to 400f˚ and you're going to cook them for about 2 hours or until they're fork tender. Just make sure to remove the Prime rib about 1 hour into cooking the celery when the internal temperature is around 120-130f˚ (medium rare – medium). Now it's salmon time!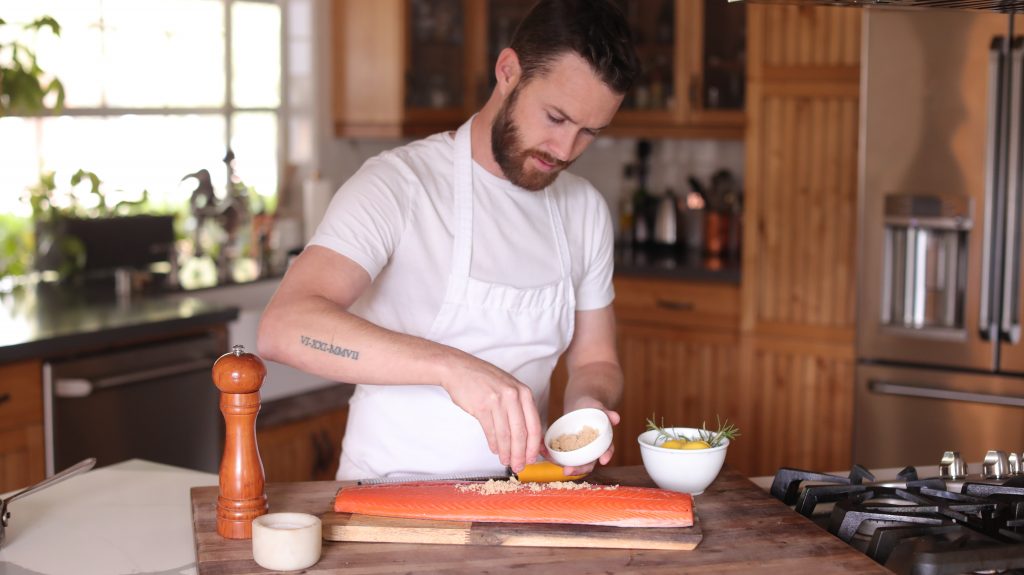 For this whole side of salmon, I'm going to do almost like a light curing before I cook it by seasoning it in advance and letting it sit for about an hour or so before cooking. This helps firm up the meat ever so slightly and the sugar gets a chance to even out and melt into the flesh.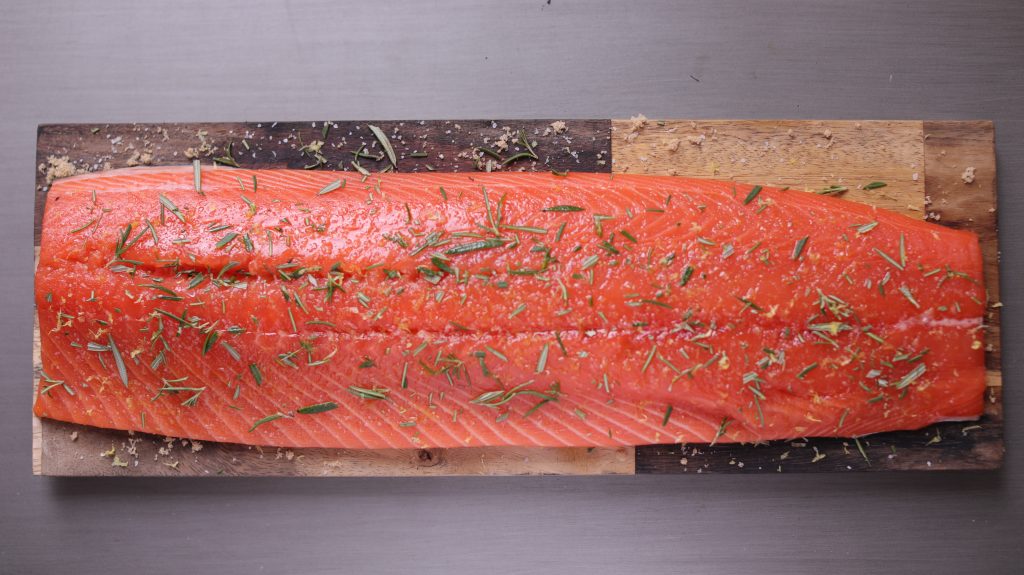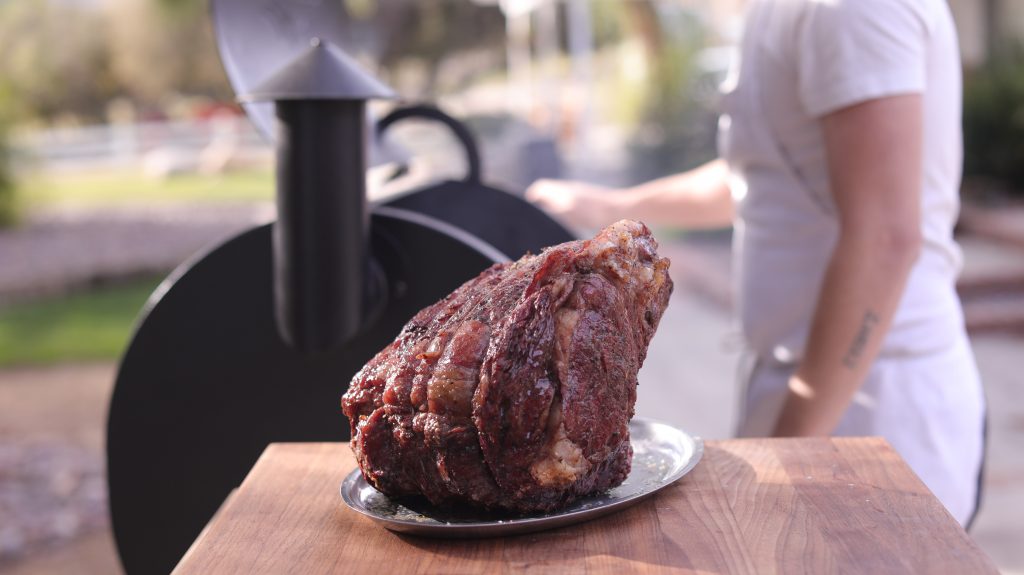 It's been about an hour or so since I added my celery root to the grill and it's time to remove it from the heat and let it rest for at least 20-30 minutes before slicing which will be the perfect amount of time to cook up the salmon.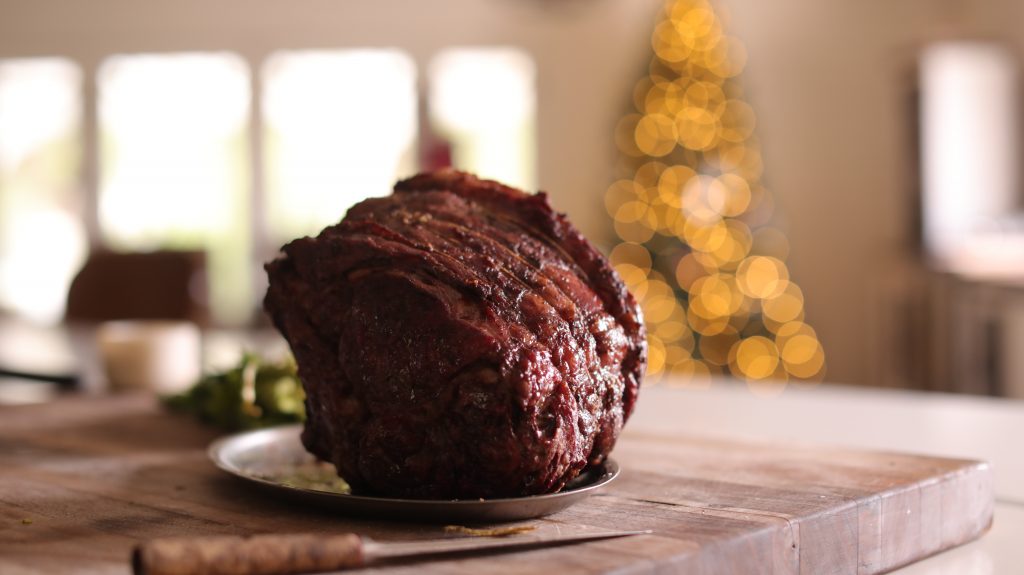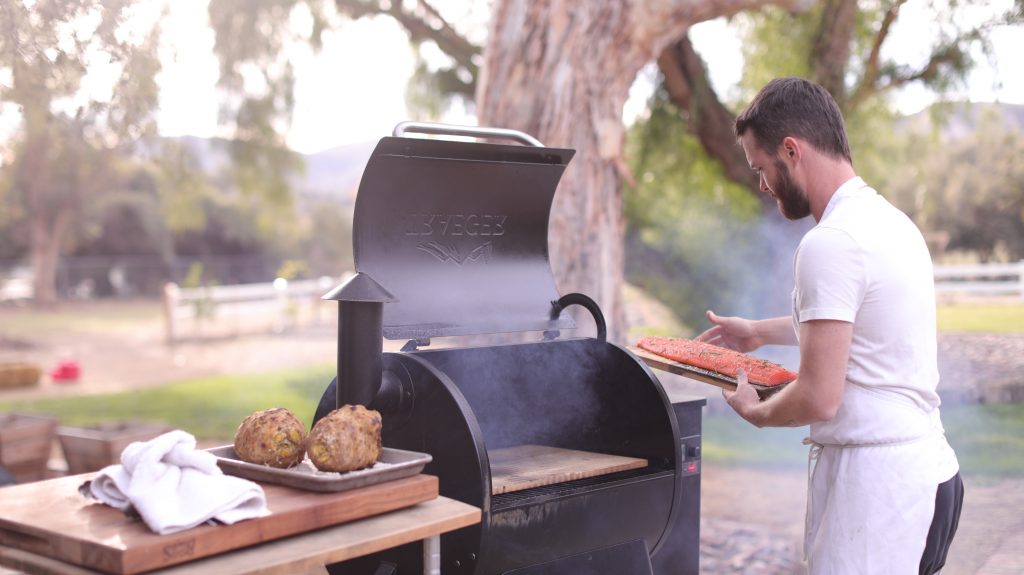 I really wish I had a proper wood plank to cook this salmon on, but I improvised with an old pizza stone and it turned out great. Ideally you don't want to cook a whole filet of salmon like this straight onto the grill because it has a tendency to stick and is a pain to move around after that happens…it can get really ugly, really quick. Also, I had to put the top rack back into my Trager grill to continue cooking the celery root alongside the salmon FYI.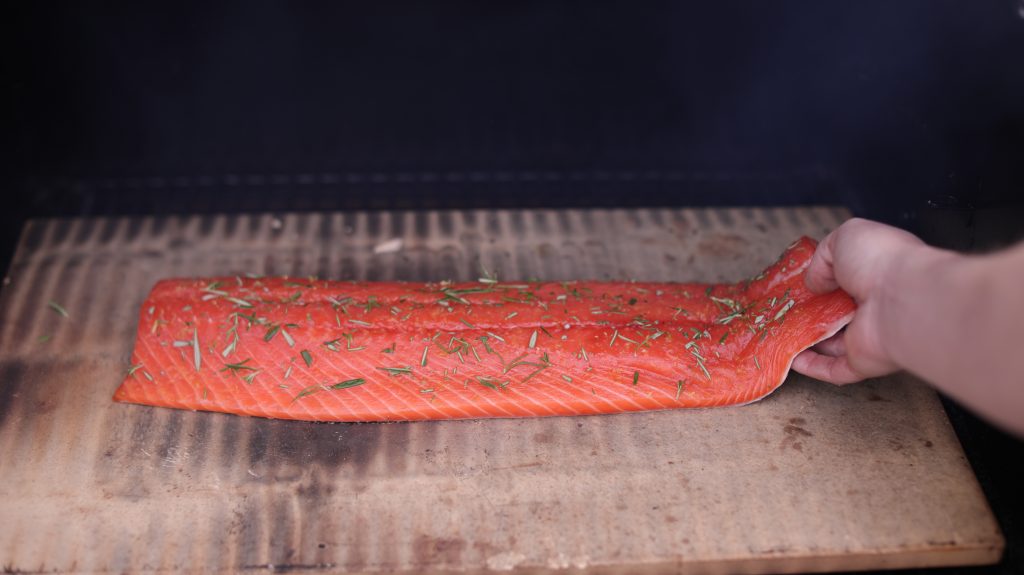 I'll be cooking this for about 20-30 minutes (depends on thickness) and I'll be keeping the temperature at 400f˚ throughout.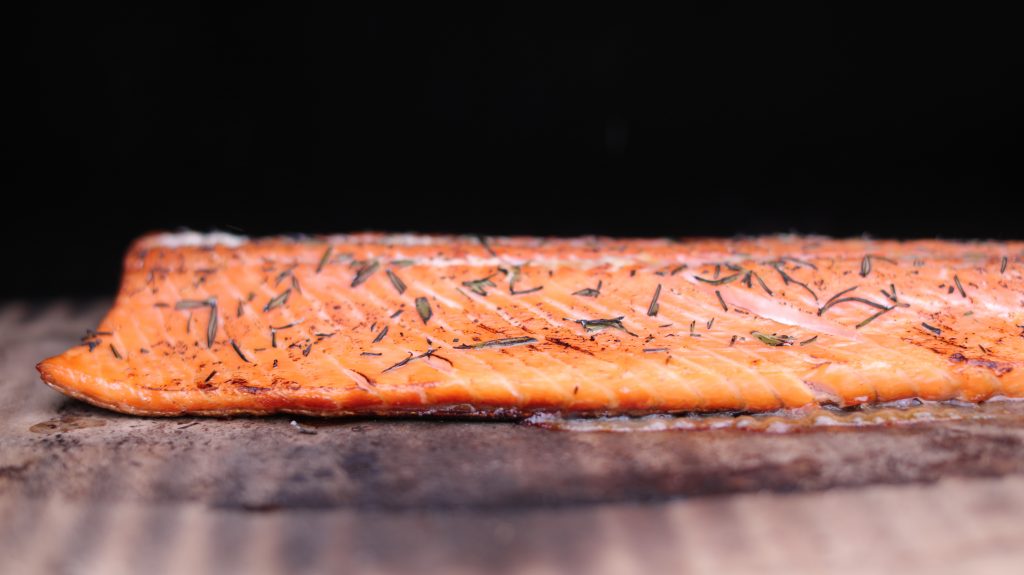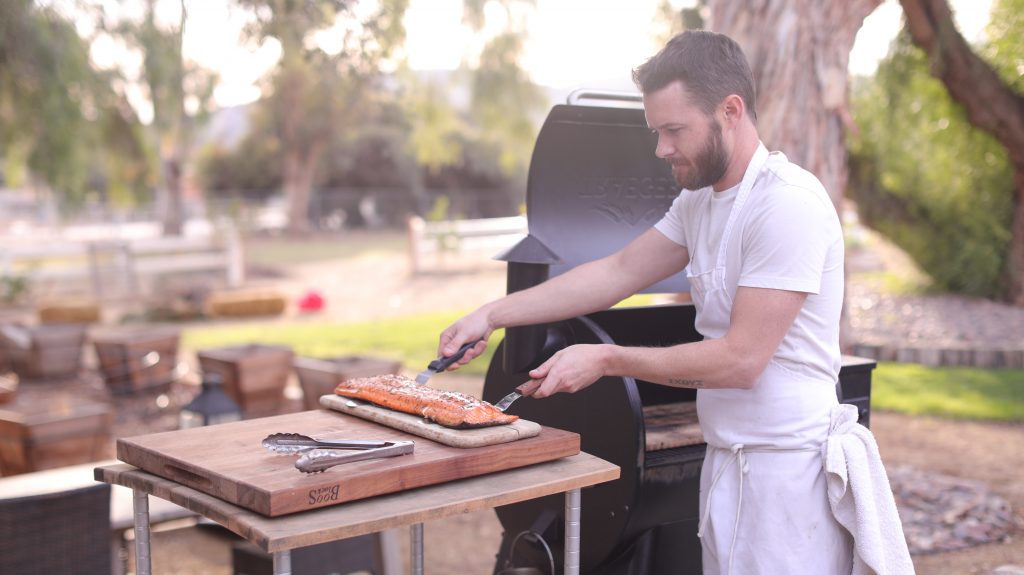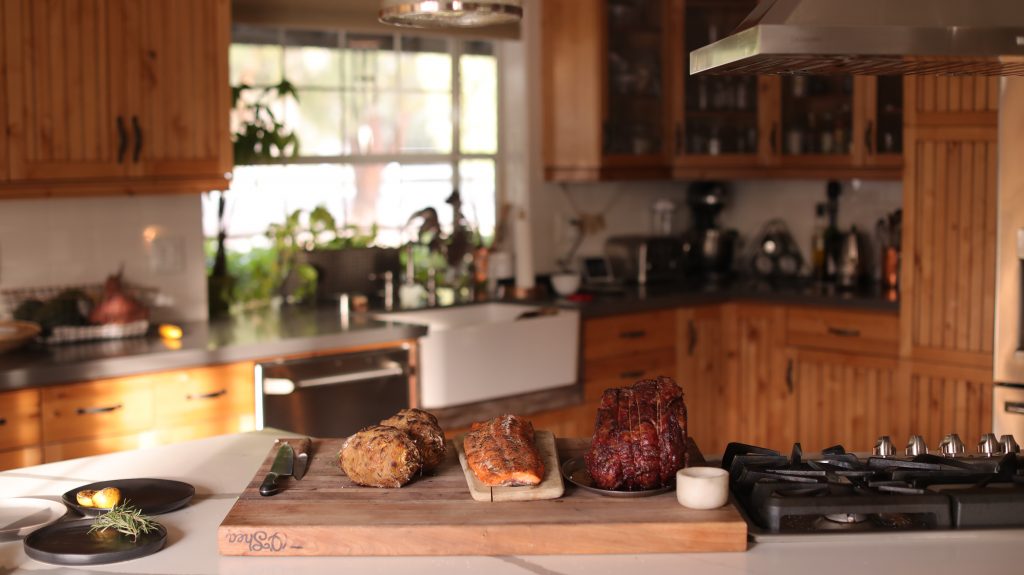 Ok, so everything is off of the grill, rested, and ready to be put onto a plate. Just be carful with the celery root because it retains an insane amount of heat (just like a baked potato), so watch out for a burst of steam if you decide to cut straight into even a few minutes after its been off the grill.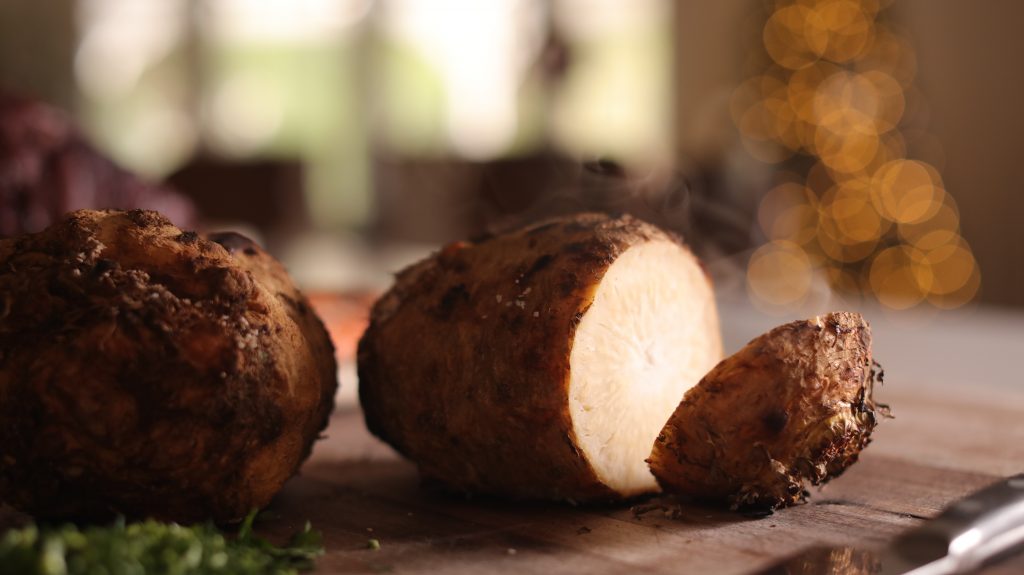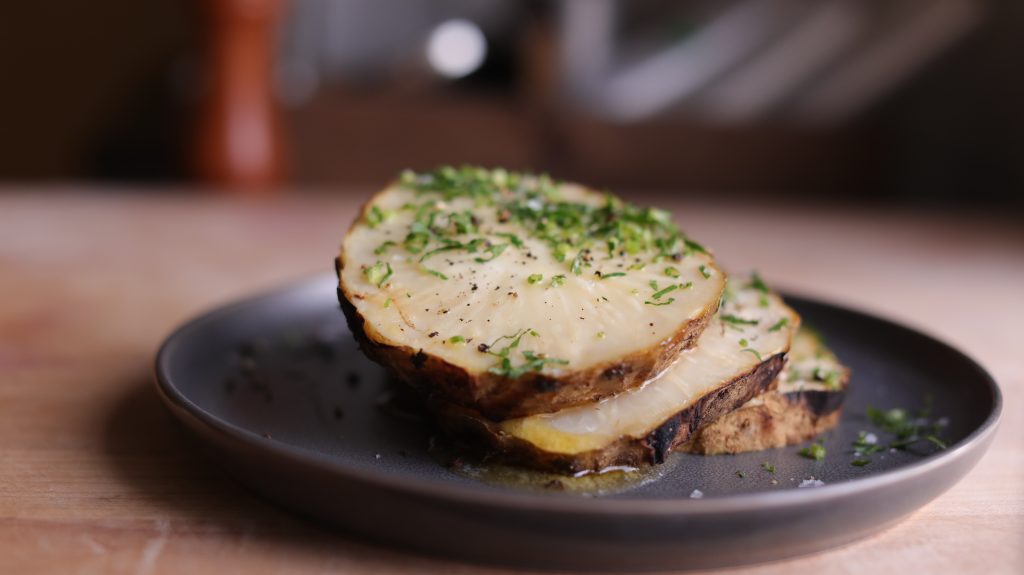 I finished these thick beautiful slices of roasted celery root with some melted butter, parsley, Maldon salt, and cracked black pepper. This will give any whole roasted meats a good run for there money…replace the butter with olive oil and this is a perfect vegan "substitute".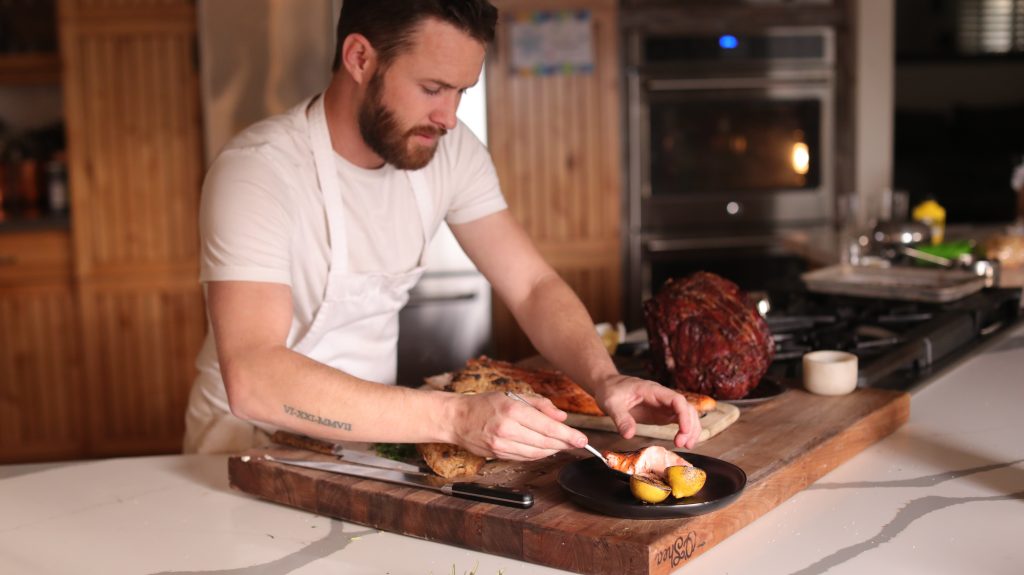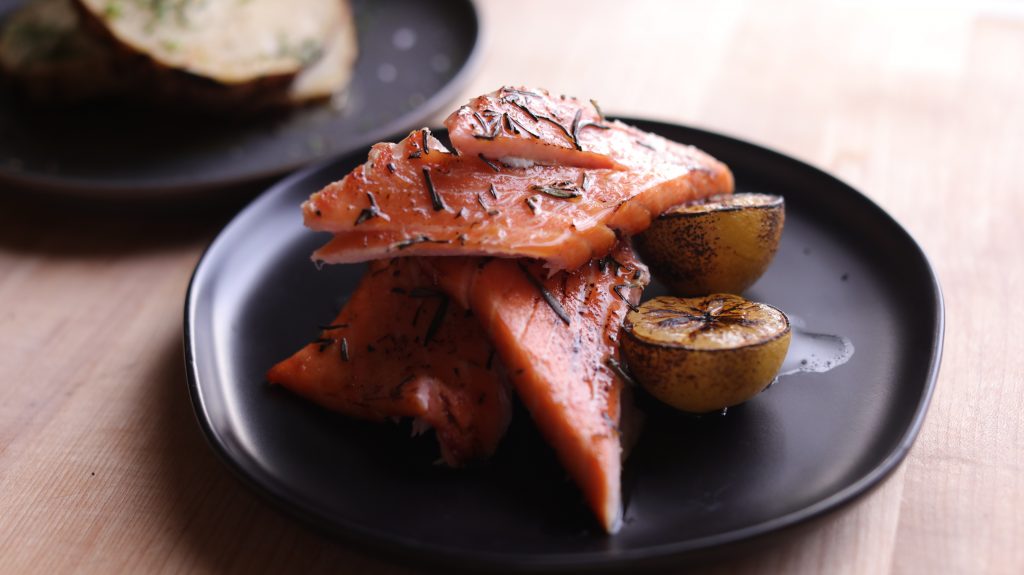 The salmon can and should be served whole for family and friends to portion as they please, but I wanted to show just how beautiful it is once its on a plate…plus I roasted a few lemons as the prefect company to this whole roasted salmon.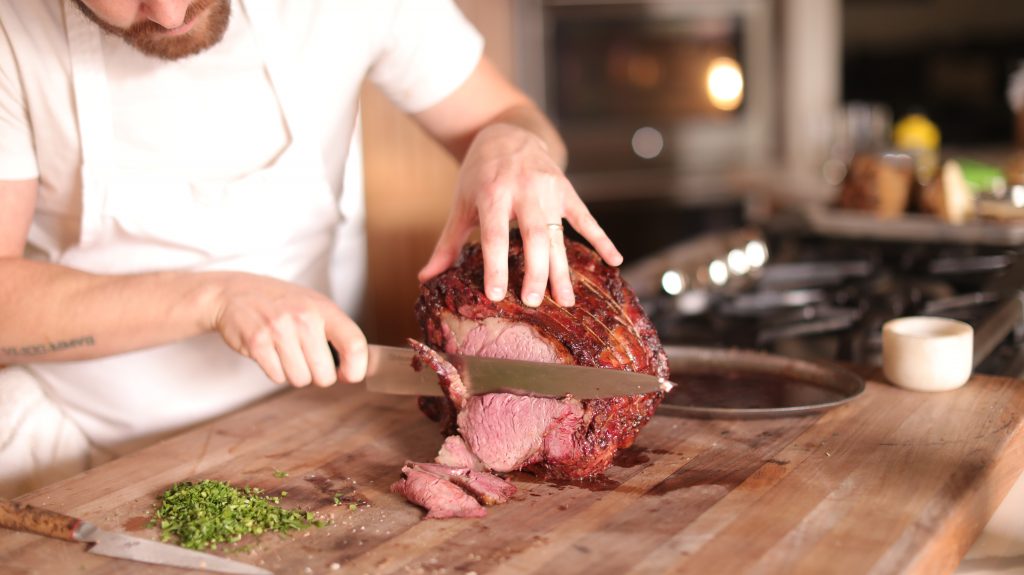 Last but definitely not the least, its time to carve up the prime rib. I will admit that my prime rib was a tad more rare than what I was shooting for, but when that happens, I tend to indulge in its rarity.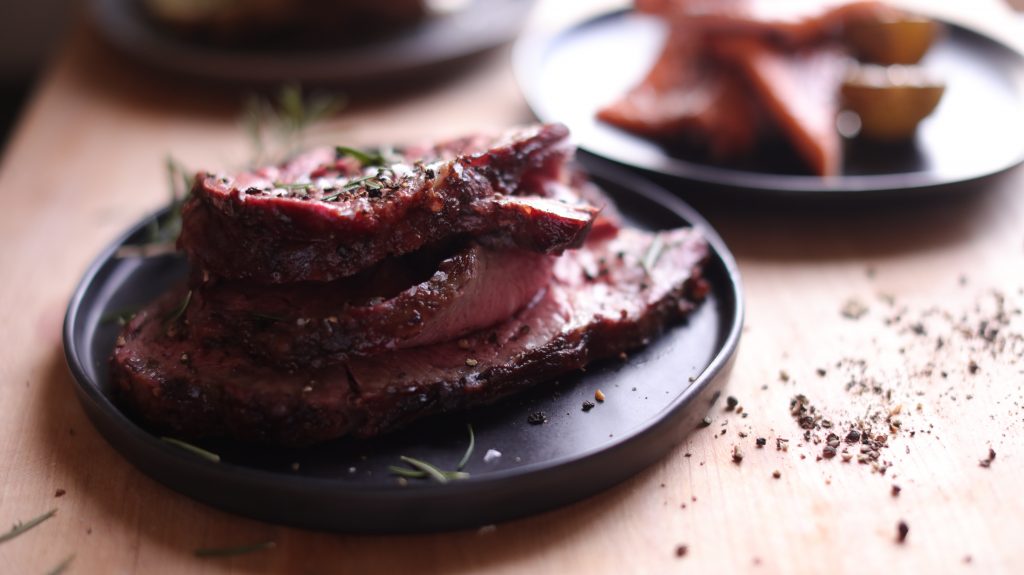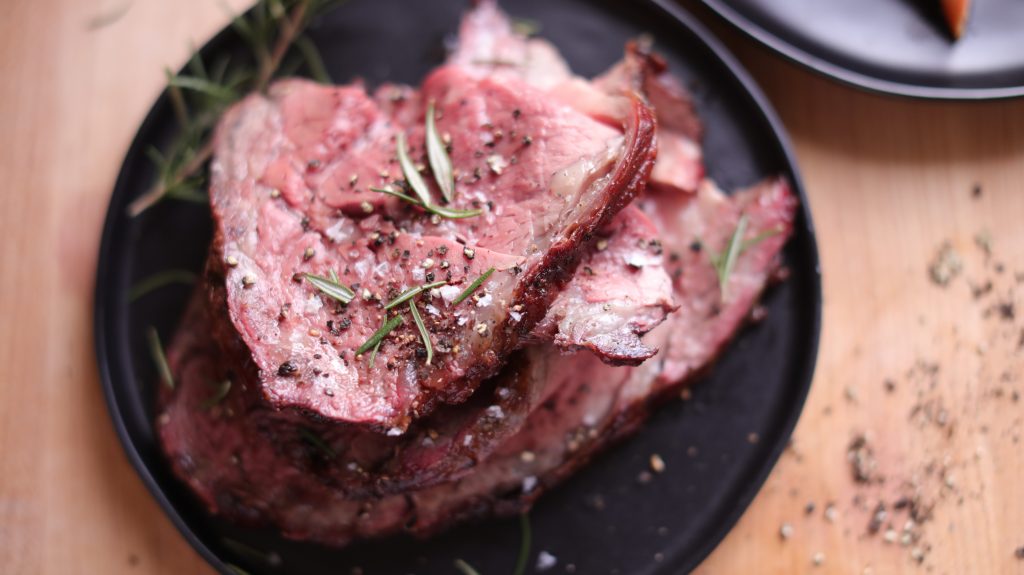 I finished the slices with some cracked black pepper, crunchy Maldon salt, and a few rosemary leaves to garnish. Normally I would make some creamy horseradish sauce to dip it in or maybe even some savory beef jus, but I'm also a fan of simplicity. I hope you enjoyed these recipes and like I said at the beginning of this post, if you're looking to get someone a gift that they'll use for a lifetime AND that feeds you, go grab a Traeger Pro 575 from your local The Home Depot or online… I promise, you will NOT REGRET IT.
Ingredients:
6-7lb bone in prime rib
3 tbsp cracked black pepper
3 tbsp kosher salt
3 tbsp rosemary leaves
3 cloves garlic
5lb salmon filet (skin on)
3 tbsp brown sugar
2 tbsp salt
2 tbsp chopped rosemary
1 tsp lemon zest
2-3 large celery roots
2 cups salt
1 tbsp butter
1 tbsp chopped parsley
salt and pepper to tast