Chocolate and caramel make a sultry and satiating duo that can't be matched! Drizzled over a sundae, wrapped in a candy bar, or baked in a molten lava cake…anything chocolate and caramel goes! #ChocolateCaramelWeek anyone?
In the mean time, here are a few chocolate and caramel concoctions that are worth day dreaming about!
---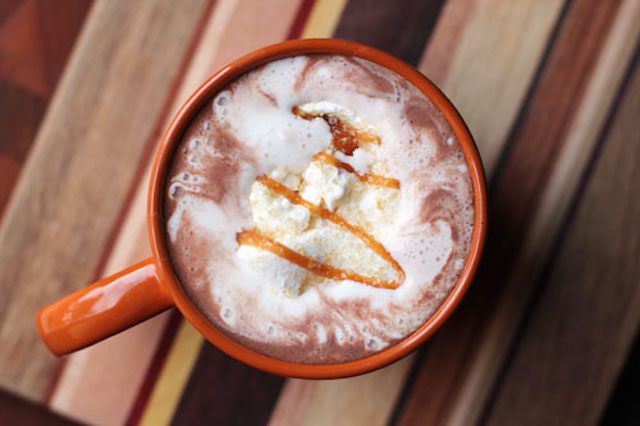 A Salted Caramel Hot Chocolate should be a no brainer! As Joey would say, "Sugar…Good. Salt…GOOD. Chocolate…GOOOOD!" And this killer concoction takes drinking chocolate to the next level! Whether you're making it at home or grabbing it from Starbucks, it's a mouthwatering MUST-TRY!
---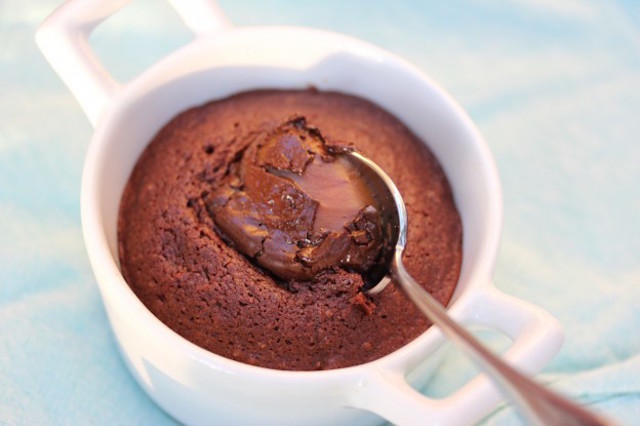 Picture a molten lava cake, made from brownie batter, half baked, and filled with ooey and gooey warm caramel! There in, you have the Chocolate Brownie Cup!Need I say more? I'm not sure life would be the same after this one…but I'm willing to risk it!
---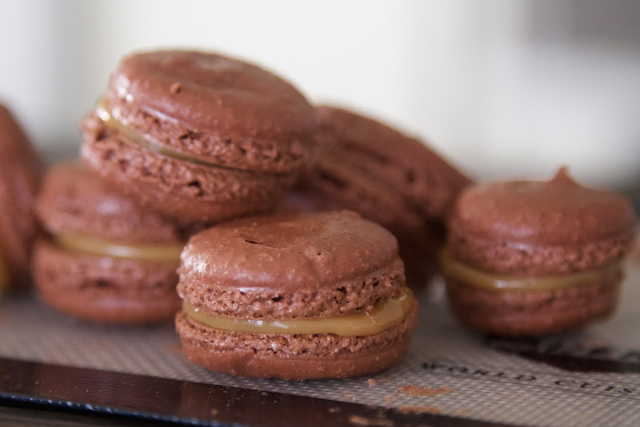 These I know for a fact are life changing! My slight obsession with Macarons (and by slight I mean I could eat these everyday-all-day) lead me to concocting these Caramel Filled Chocolate Macarons! I whipped these up with a buddy of mine that was new to baking to prove that homemade macarons are completely doable! If you haven't tried making them yet, this is the recipe to start with and I guarantee you'll be hooked!
---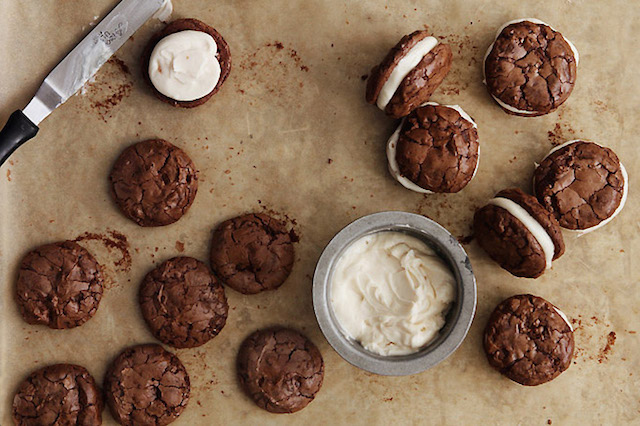 Salted caramel creme—SAY WHAY? Rich caramel whipped into a thick creme and sandwiched between two soft brownies! I don't think life gets better than these Salted Caramel Brownie Bites, but I'm still willing to search around! Nomming in the name of research, right?!
---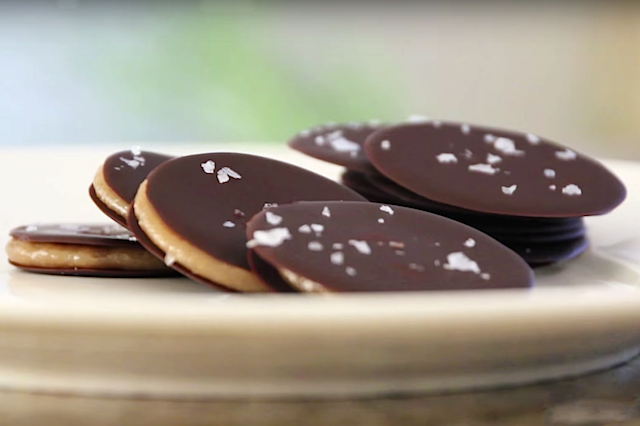 If you want to take it back to basics, these Salted Chocolate Caramel Chips were one of the first caramel and chocolate creations on my channel and I'm still dreaming about them! Simple to make and absolutely killer! Perfect balance of salty, sweet, and bitter (dark chocolate).
---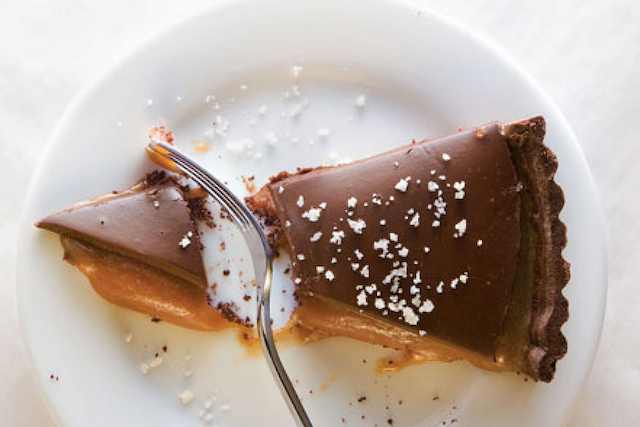 Remember this guy from my "Outragious Chocolate Treats" post? Like I said, this Chocolate Caramel Tart isn't crazy in execution…it's crazy because of just how good it sounds! A homemade chocolate tart, filled with a creamy caramel filling made with creme fraiche, topped with a rich chocolate ganache and a sprinkle of sea salt! A sophisticated take on a classic chocolate candy bar and gluttony at its finest!
---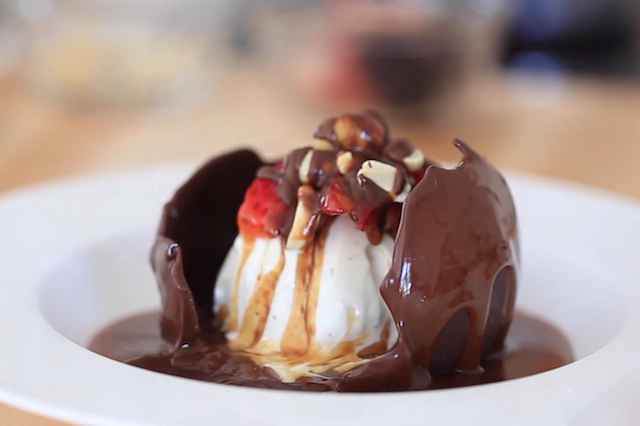 And if a show is what you're after, the Chocolate Ball is guaranteed to garner some "ooohs and awes!" Hot caramel poured over a dark chocolate sphere that slowly melts into a pool of warm liquid goodness—all around a scoop of vanilla bean ice cream topped with fresh nuts and berries! A new age sundae that will not be out down!
---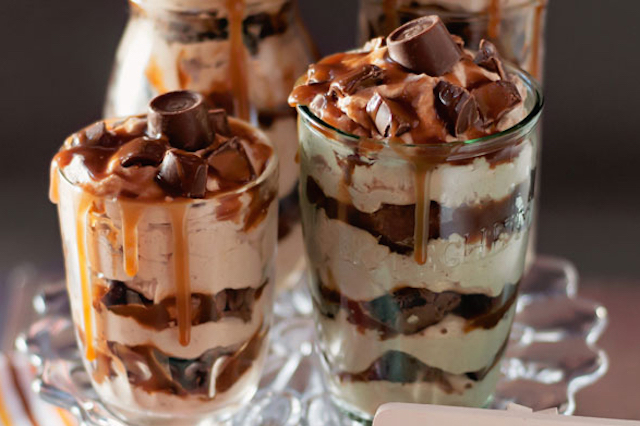 The king of chocolate caramel creations, and movie theater nostalgia, would have to be the ROLO! Chewy caramel covered in sweet milk chocolate equals DREAMY! Now imagine someone took the candy we know and love, mashed it into brownie batter, baked that, and them alternated layers of the baked rolo brownie with layers of homemade vanilla bean whipped cream and hot caramel…you'd get the Rolo Brownie Trifle!
MIND BLOWN.
---
If you're looking for something a little lighter, there are definitely a few other options that'll hit the spot! This Salted Caramel and Chocolate Popcorn is made by popping a few kernels, tossing them in some homemade salted caramel, and throwing in a few (or more) dark chocolate chips. Simple, unique, to die for!
---
And finishing off these killer chocolate and caramel must-tries with a classic—I present to you the Caramel Coated Chocolate and Toffee Apples! A carnival favorite and mine as well! Fresh honeycrisp apples coated in a thick homemade caramel and then rolled in butter toffee and dark chocolate chips! Is this what heaven's like?