"Ranchera" Steak Salad
I've always been a big fan of a good steak salad, but it can be hard to find a really satisfying one at most local places. I've ran across a few in my life and its always the ones that are a little off the beaten path and always have a good blend between crisp veggies, cilantro vinaigrette, some element of creaminess, slightly spicy, and whatever meat you choose (in this case I went with Carne de Ranchera) it should have a good amount of salt, cumin, complimenting spices, and grilled to absolute perfection. Another great thing about this recipe is that I had the pleasure to execute it with the new Traegar 575 pro and its one of the best grills I've ever come across thanks to my partnership with Home Depot. Aside from being bullet proof (hardware and overall build are great) and very easy to set-up and use, the wood pellet grilling system that Traegar grills are known for are really impressive. I used the mesquite pellets and it gave a really nice light smoke on the meats that turned out to be perfect for what I was going with. Sometimes salads can be a bit boring, but if you load them up with loads of contrasting mouth watering flavors, they can and should become a staple recipe in any kitchen. I called it the "Ranchera Steak Salad" because this would be such an easy lunch to whip up for lunch when the grill is hot, meat is seasoned, and you have fresh veggies and herbs in the garden. Alright, lets dive into the recipe!
This is the blend of ingredients I'll be going with to season the Carne de Ranchera. Sliced yellow onion, Clockwise: Paprika, Ancho chili, Chipotle, chili flakes, cilantro (stems and all), parsley, and thyme. You can tell the herbs are from my garden because my little caterpillar buddy followed me in..lol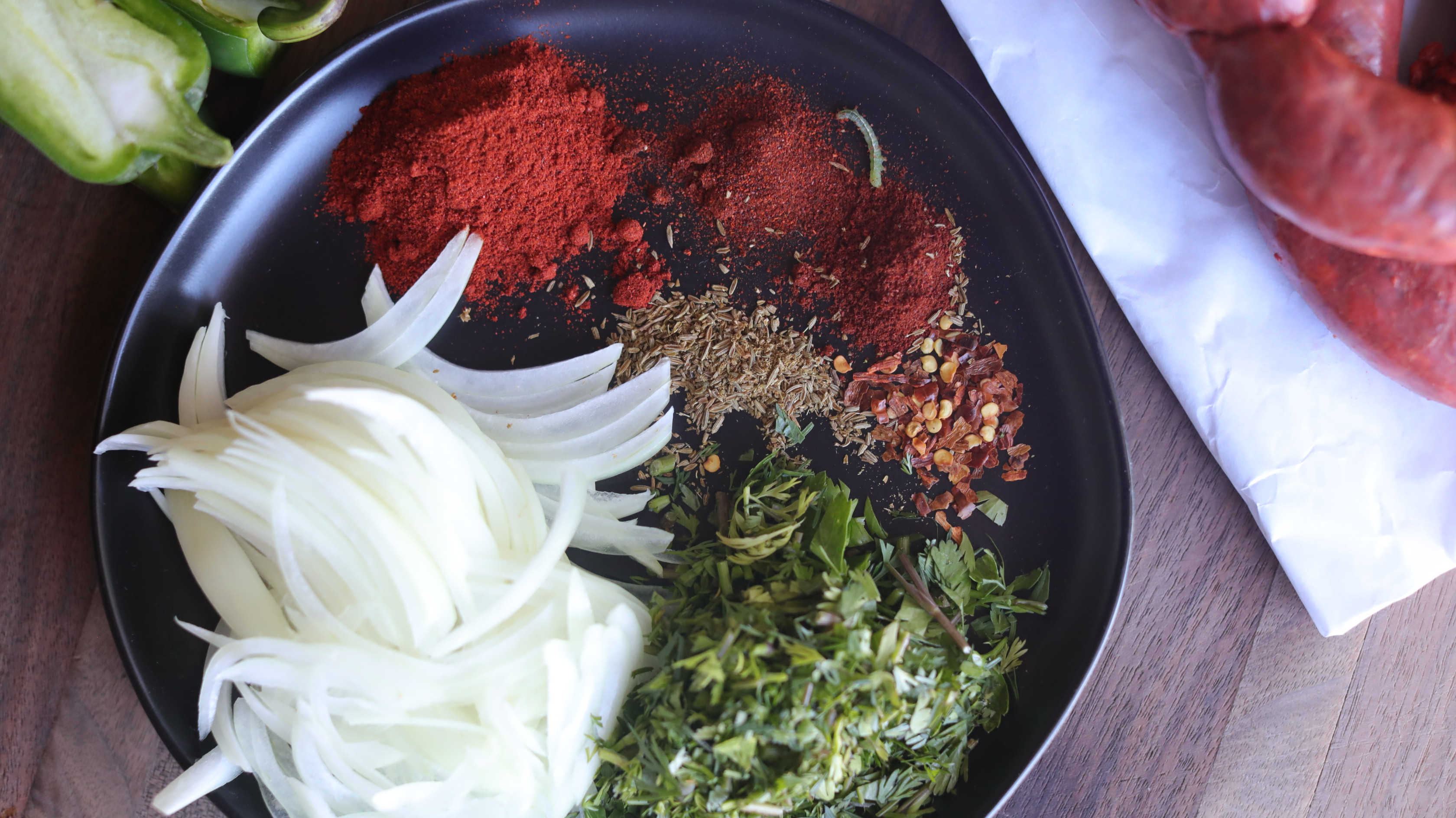 Add the ingredients to a large mixing bowl along with the meat and begin to gently massage it all together.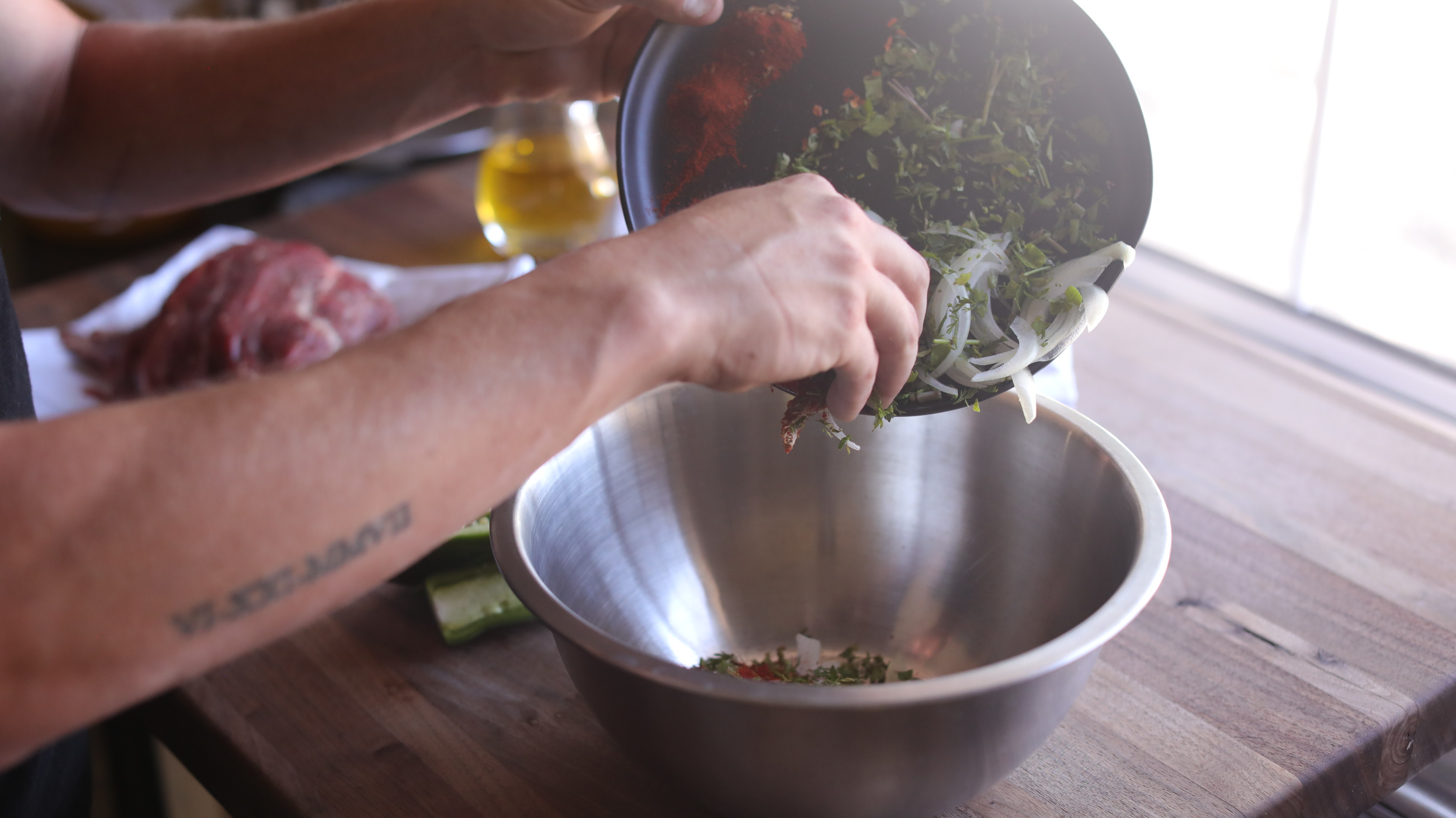 Make sure you really get the seasoning in every nook and cranny and blend the red spices as evenly you can. Also, add in a little olive oil blended with canola oil as well.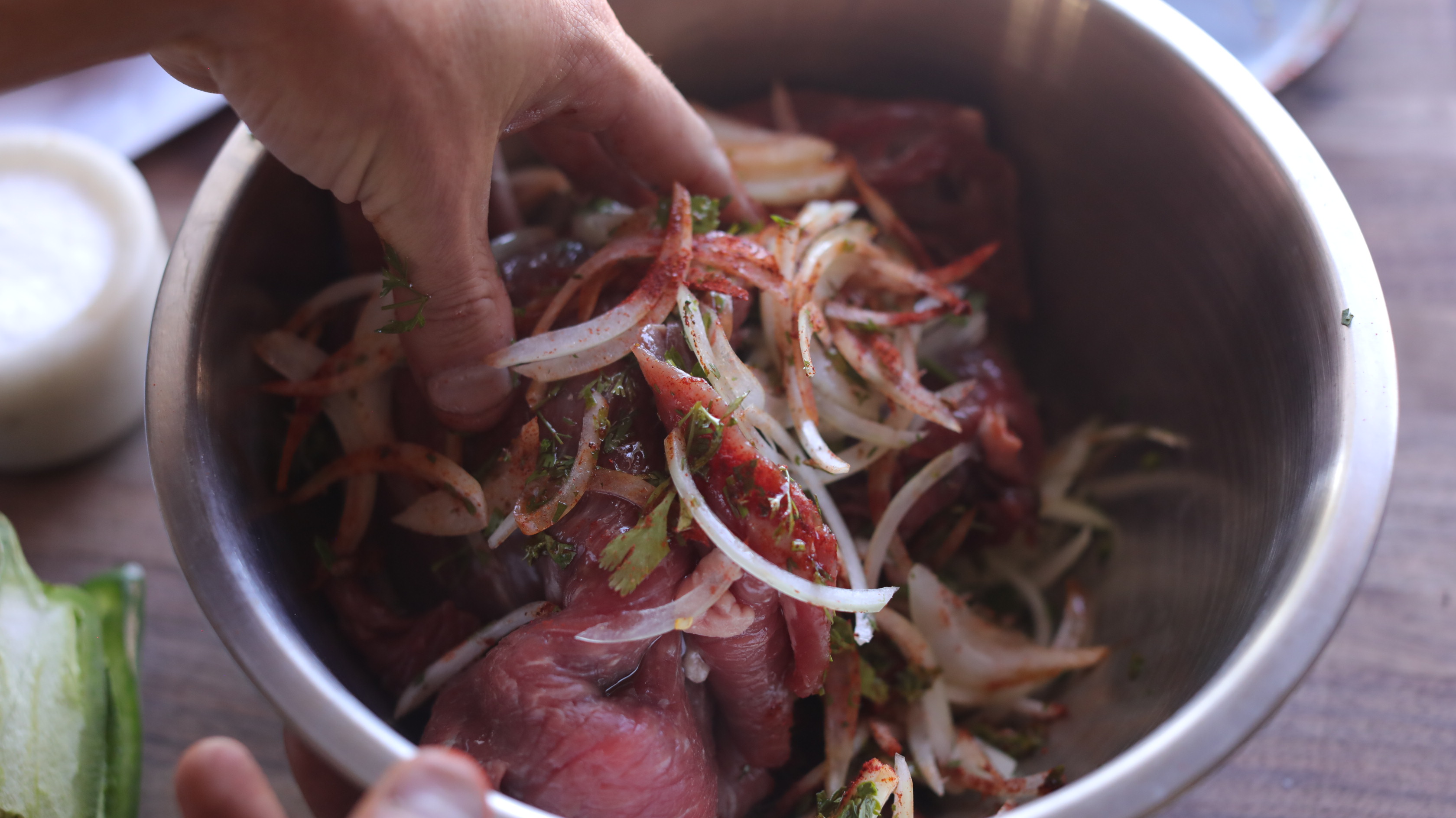 Fire up the grill to your desired grilling temp, in this case I was at the 450f setting on my Traegar 575 pro and preheated it for a good 20 minutes before starting.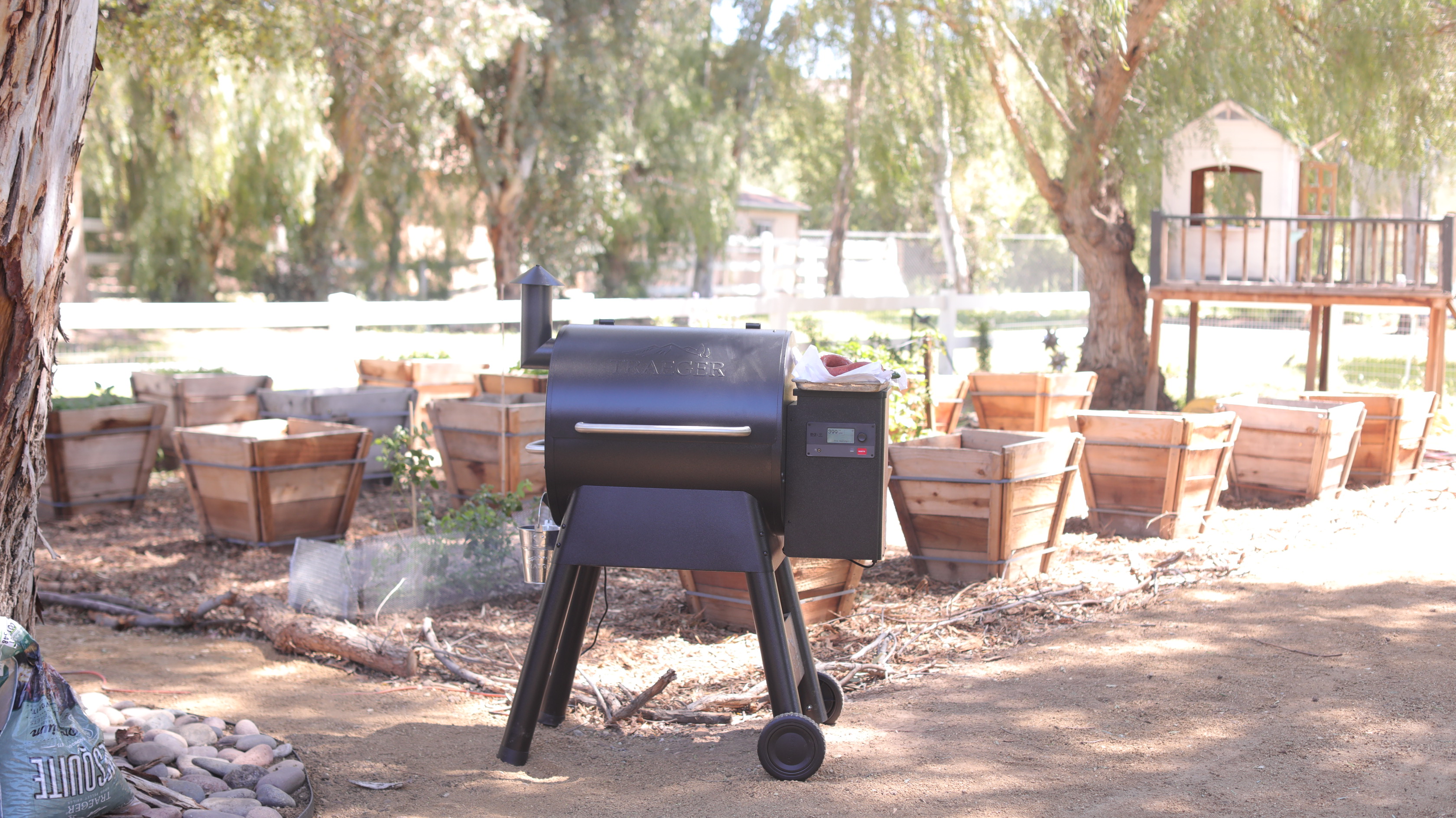 Add in the meat according to its cooking time once the grill its ready to go. Here I also bought some spicy chorizo sausage to go along with the steak and I'm saving some for tomorrow morning for my eggs, but none the less, I gave them a 30 minute head start before I started grilling the steak.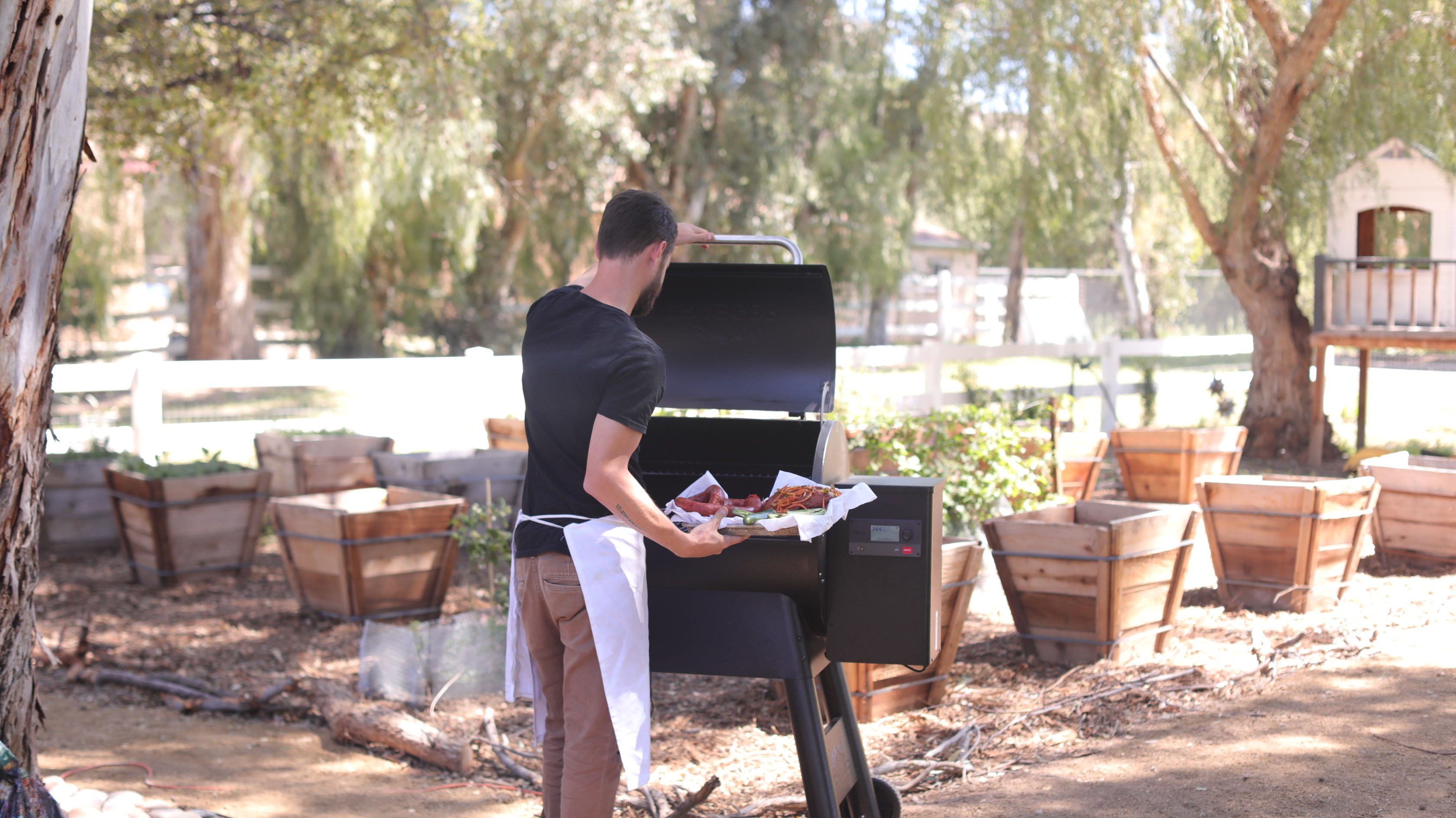 This meat cooks really fast, but is actually kind of hard to screw up believe it or not… its good rare, well done, or charred, so don't worry to much about overcooking it per se. I left mine on the grill for about 5 minutes or so on both sides and I was more than happy with the juicy results.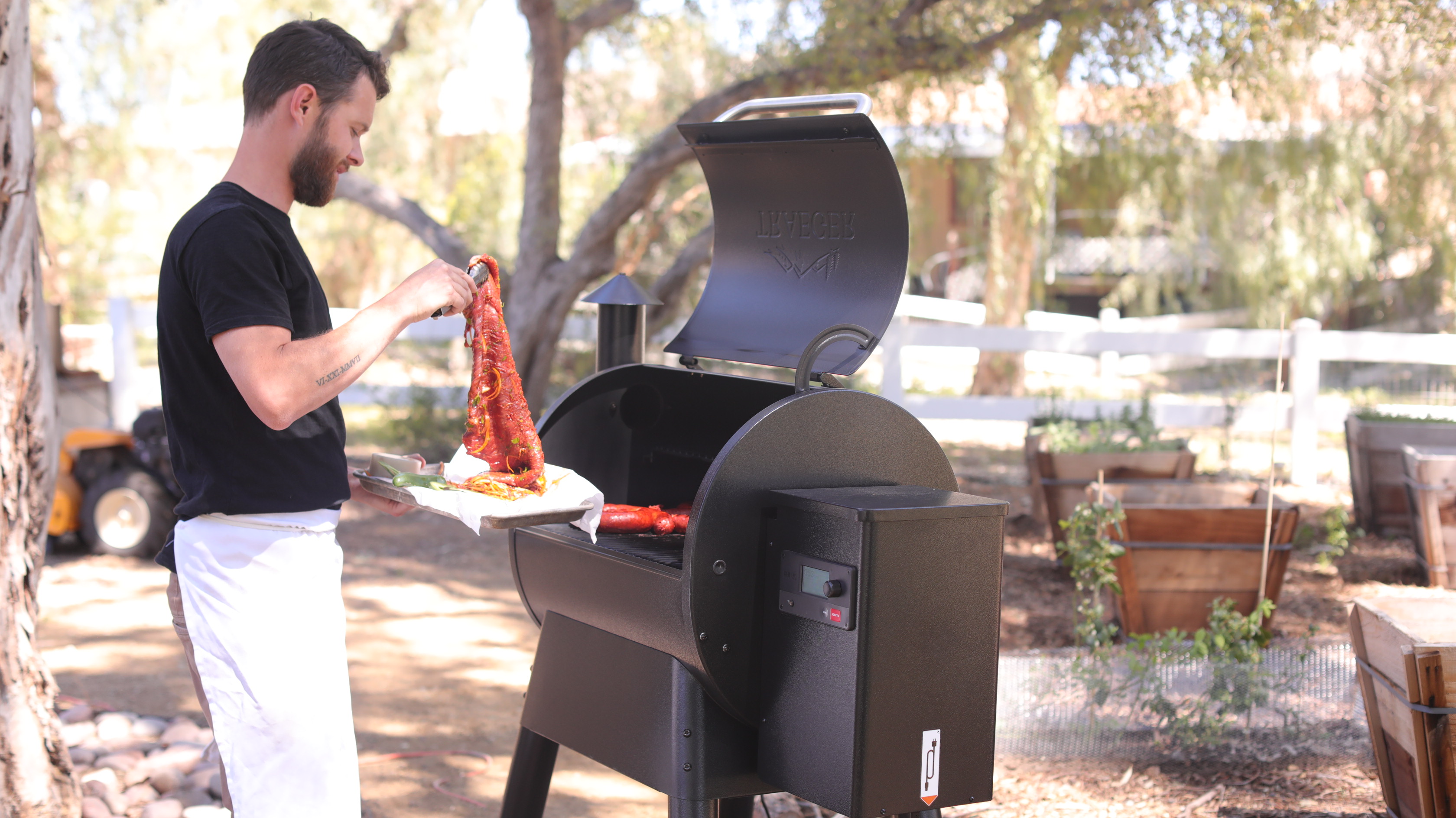 Always, always, always season your meat with a good amount of salt…that is all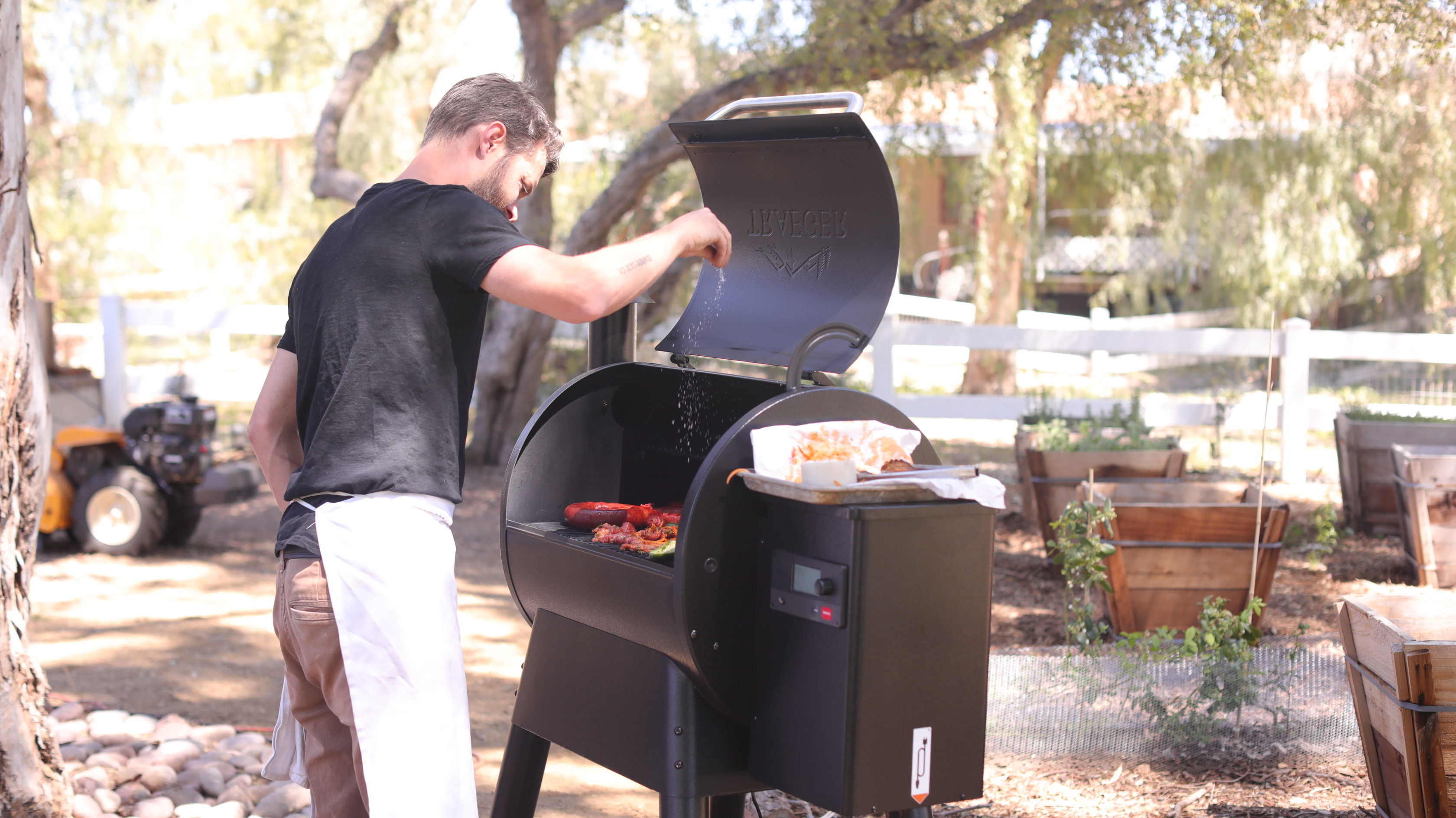 While the meat is cooking on the grill, its a good time to put together the components to the salad. I just picked this green garlic from one of my beds and it will serve as probably the strongest flavor in my creamy "chimichurri" dressing.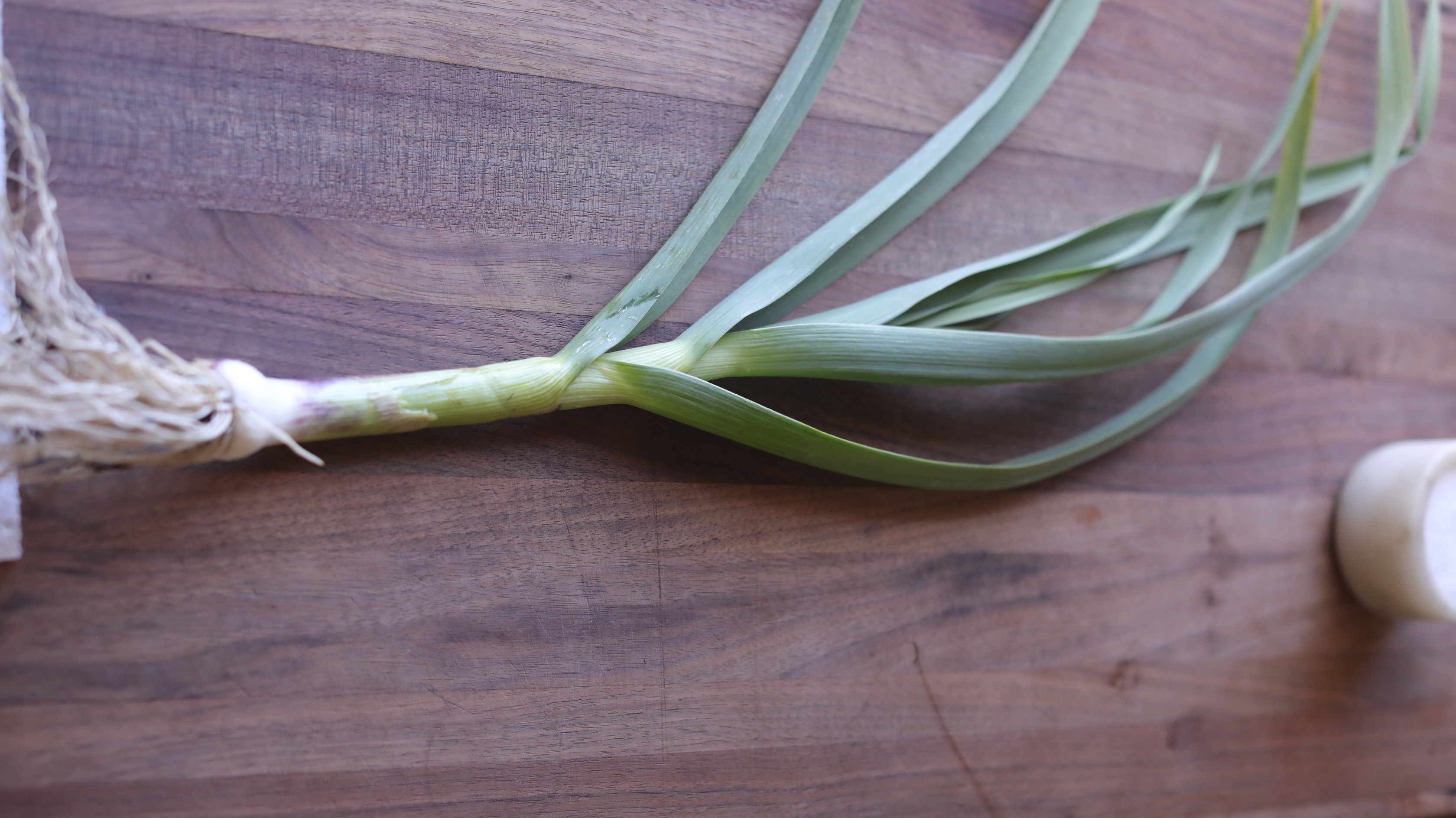 I reserved some of the herbs (cilantro, parsley, thyme) from the seasoning for my meat to use alongside the green garlic, fresh lime zest & juice, 50/50 olive oil and canola, chili flakes, and a good pinch of salt to forge the dressing.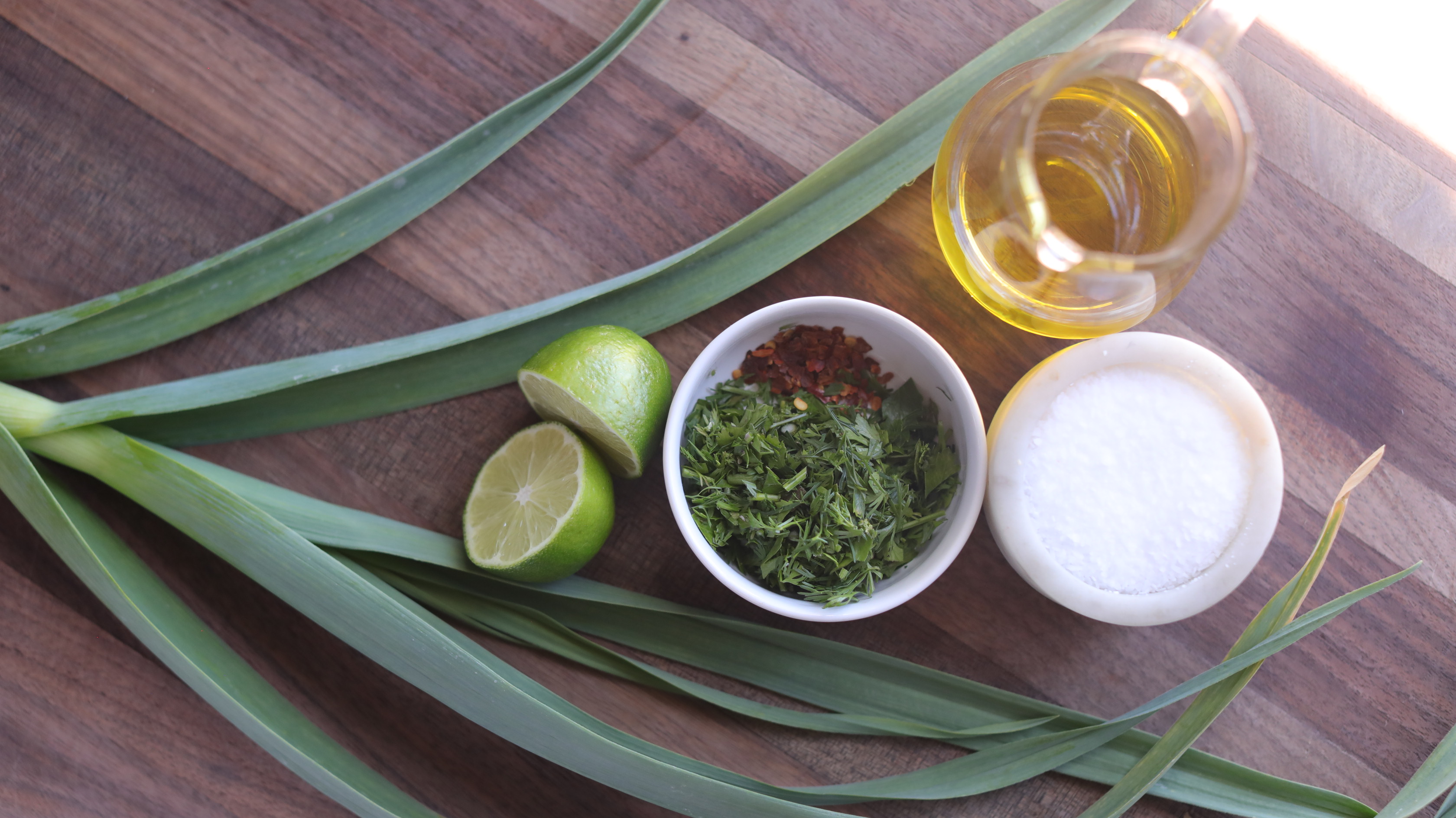 After you minced the green garlic, herbs, and chili flakes together, add everything to a mixing bowl along with a few dollops of sour cream and give it a good stir.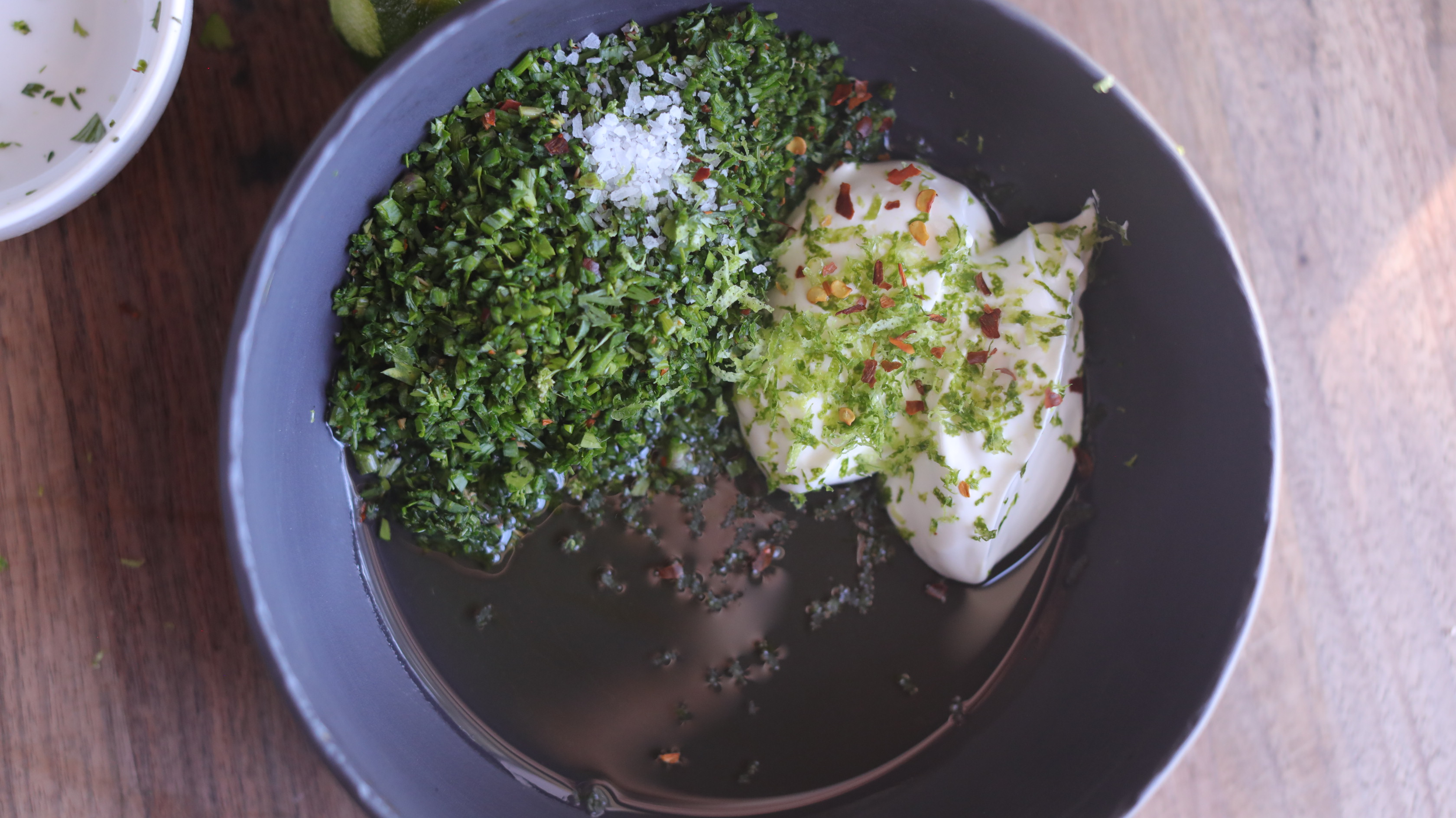 If it gets a little to thick, which mine did, keep adding a little bit of water until it reaches a creamy consistency. This dressing is good for SO MANY THINGS btw.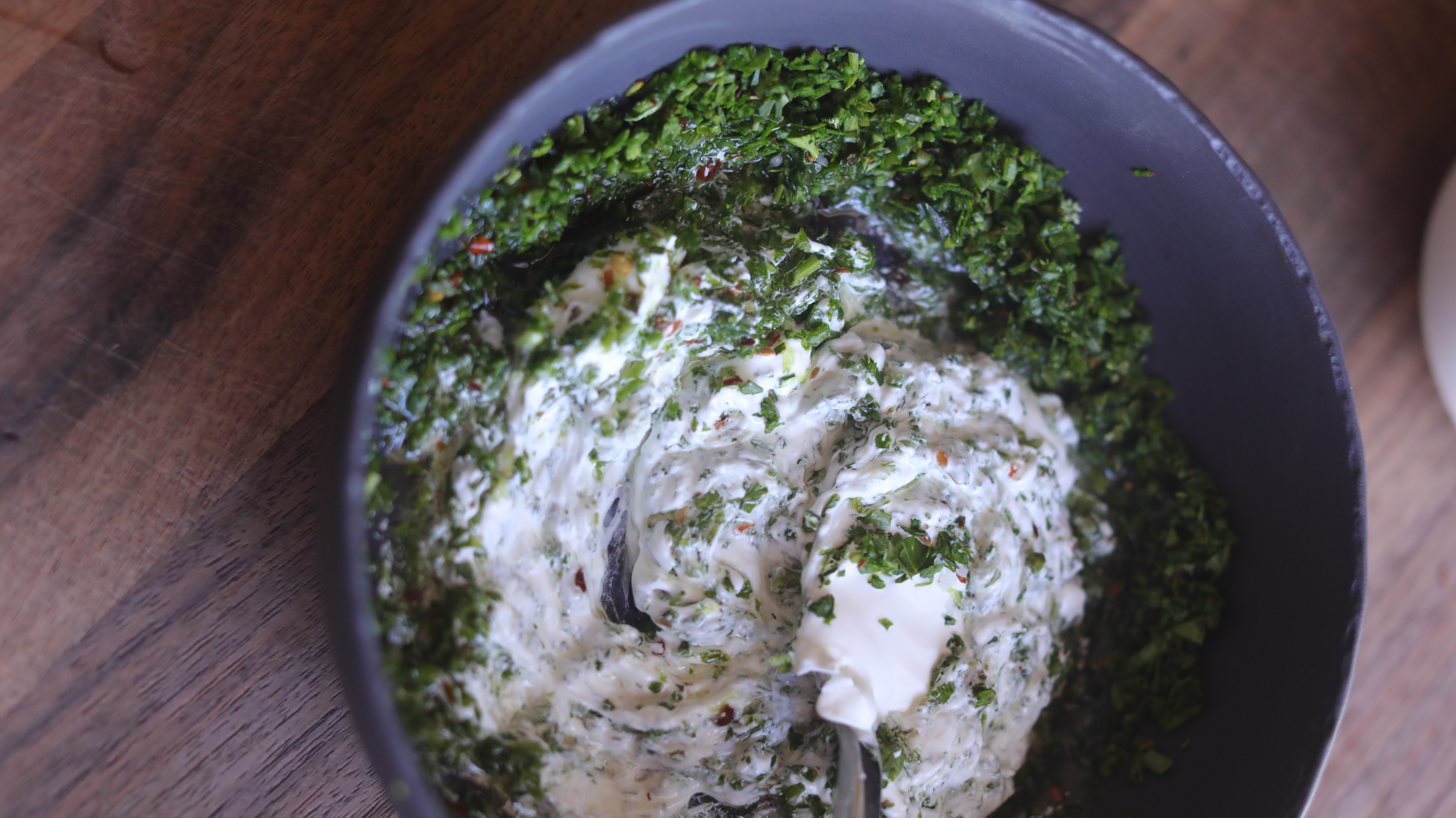 For the salad I'm using some baby romaine romaine from the garden along with chunky avocados, vine ripe tomatoes, and sliced red onion. I'm going for a fork and knife feel for this salad since you're having steak anyway, so splitting the heads down the middle and keeping just a little bit of the root on felt appropriate. Also, the browning on the tips are a result of the warmer weather and me not trimming back the leaves more regularly for new growth…doesn't really bother me though.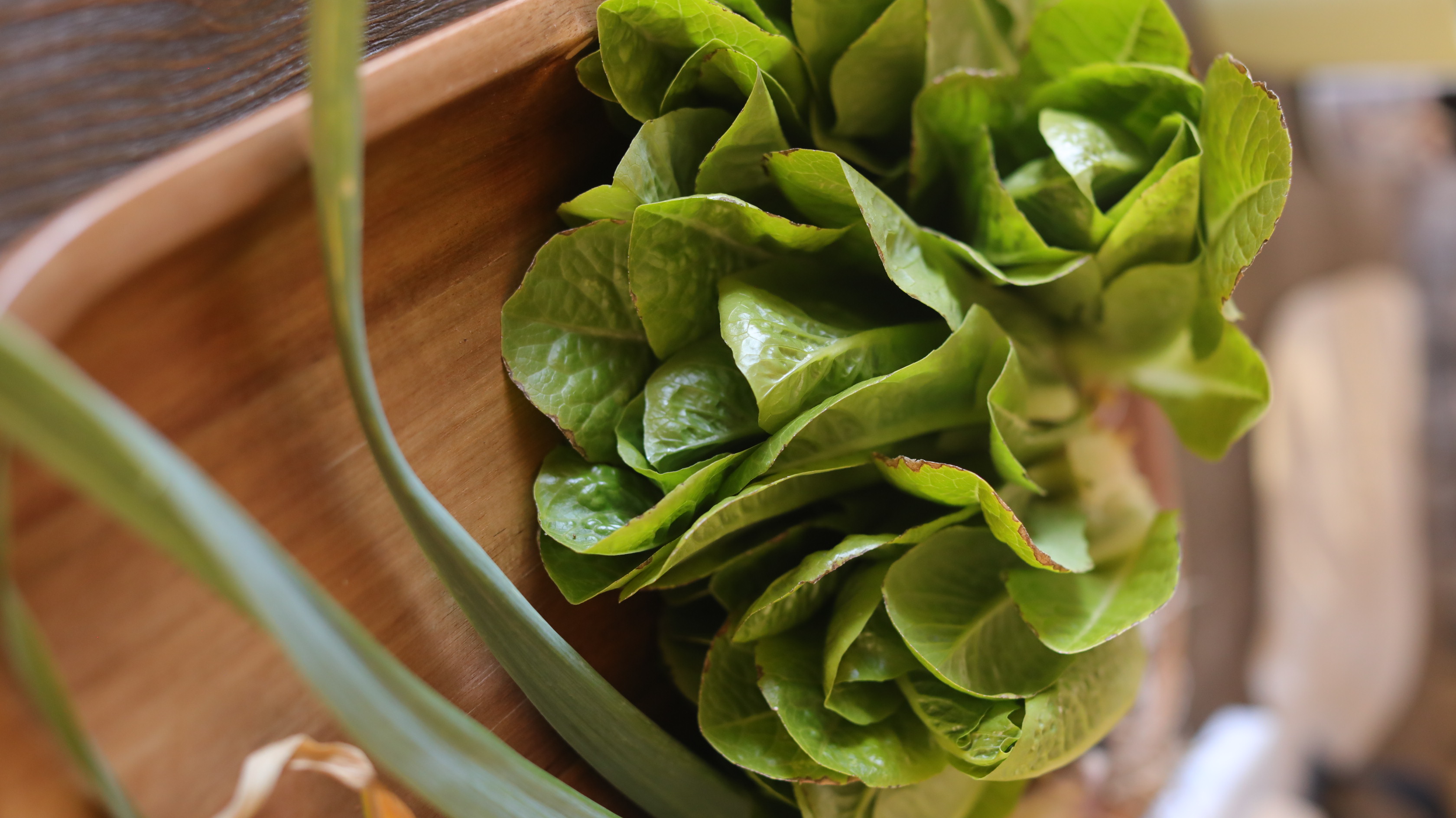 THE MEAT IS READY!! All in all the total cooking team between the two were about 45 minutes (35 for chorizo / 10 for steak) and its time to assemble the salad,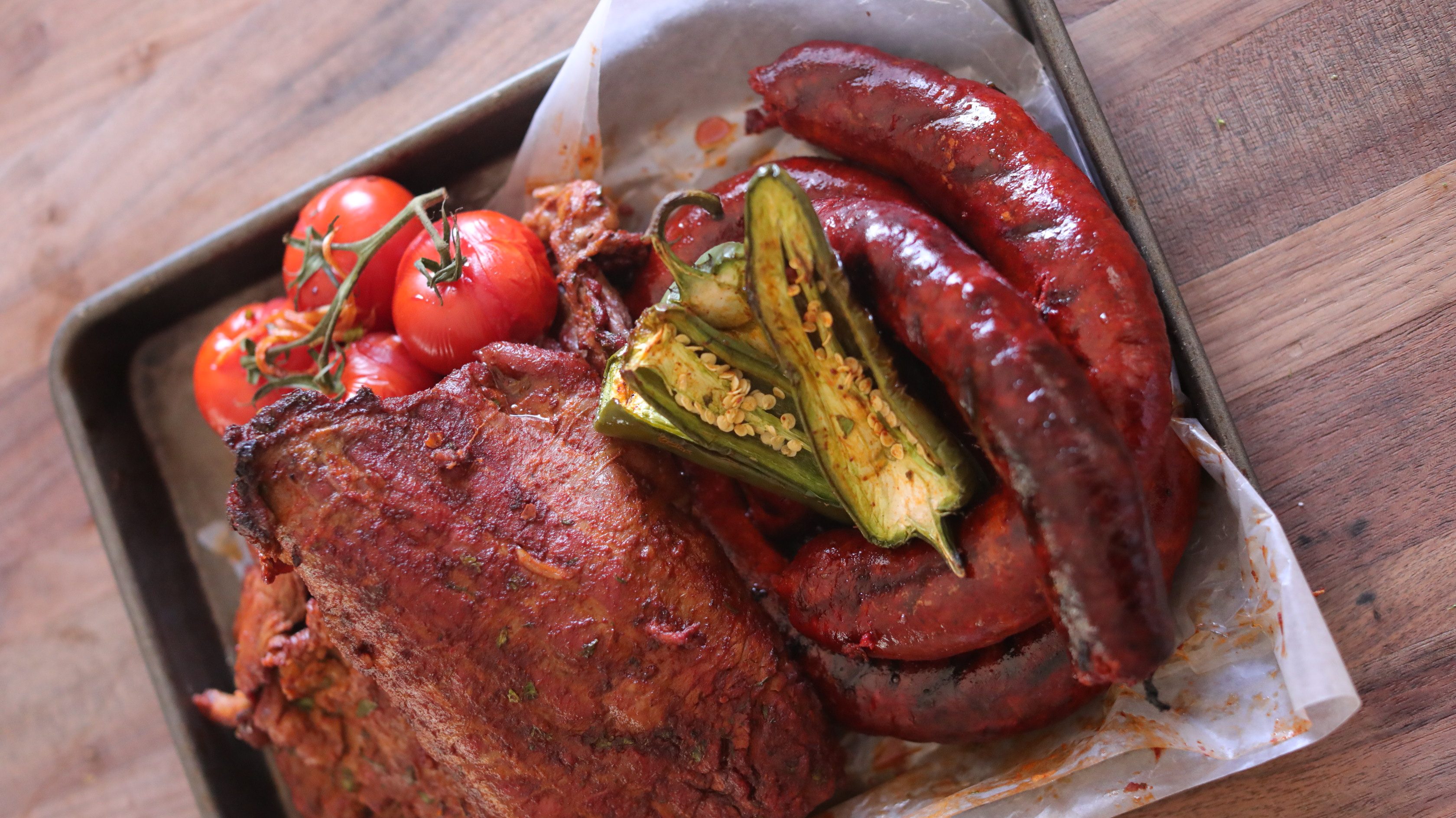 You can always make this a tossed type of salad if you prefer it that way, but sometimes highlighting the ingredients helps with flavor contrast in my humble opinion. Anyways, start with spreading some of the creamy dressing down…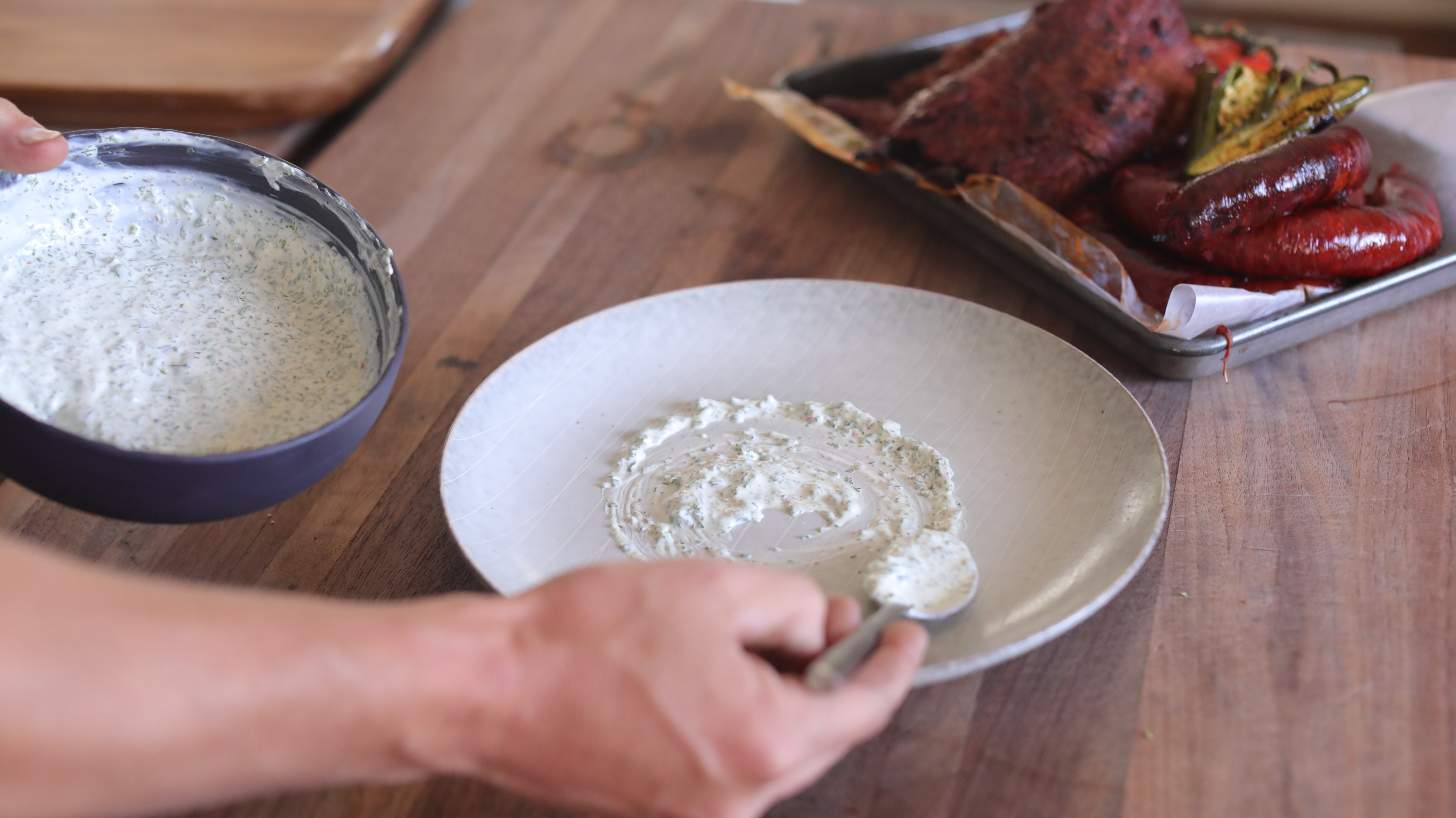 Gently toss the romaine, avocados, sliced red onion, and tomatoes with a splash of olive oil, lime juice and salt then place some of the mixed salad down onto the side of the plate.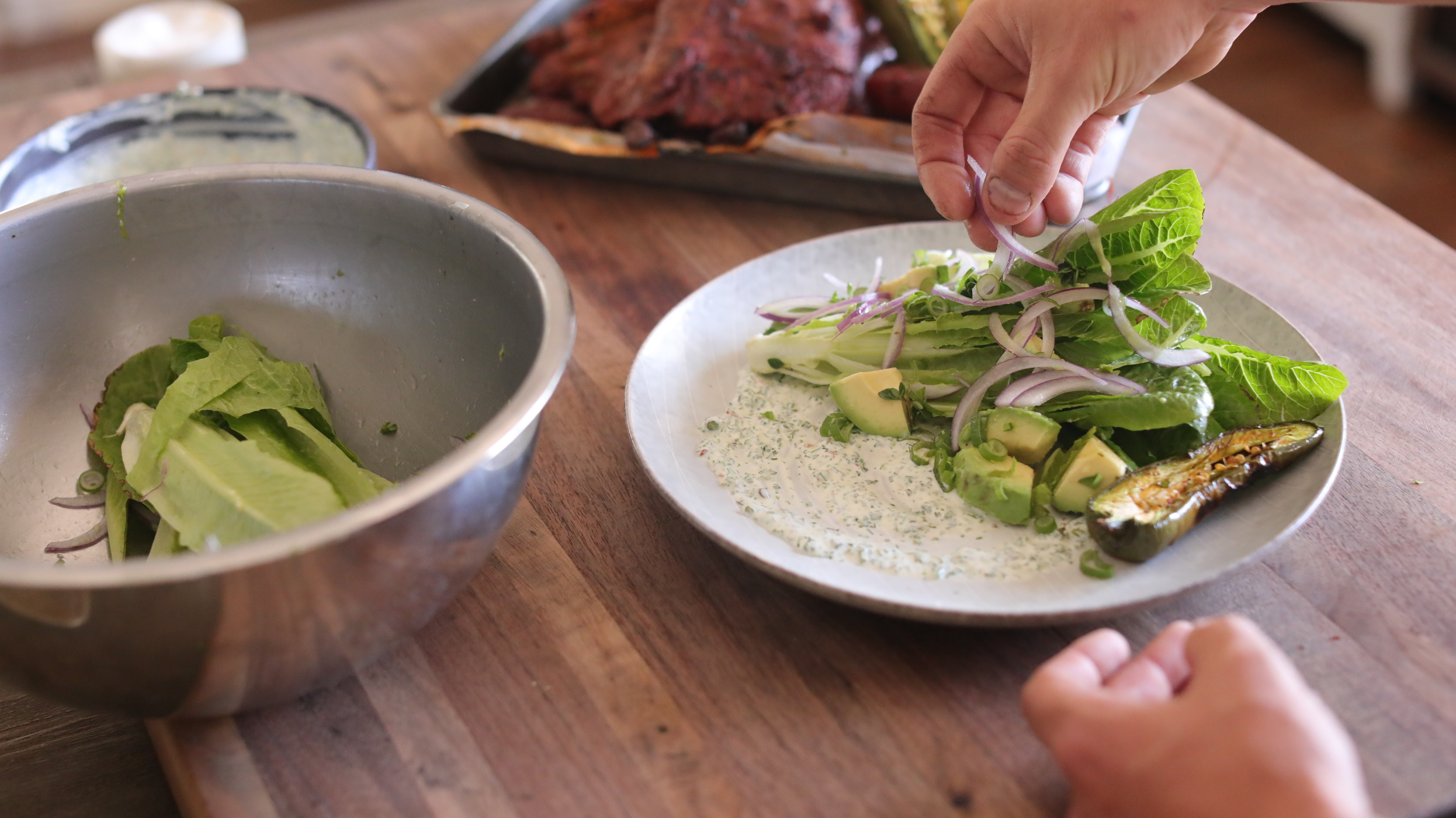 Place the sliced steak on the other side of the plate and garnish with a grilled jalapeño and roasted tomatoes that serve as perfectly delicious "condiments". THAT'S IT! This steak salad will be one to remember, I PROMISE. Big thanks to Traegar Grills and Home Depot for collaborating with me on this recipe and I'll be showing you a few more recipes with this grill along with some of the digital features it has over the summer, so stay tuned! Brisket Sandwich? Smoked Short Rib Breakfast? Mesquite Salmon for dinner? SO MANY OPTIONS!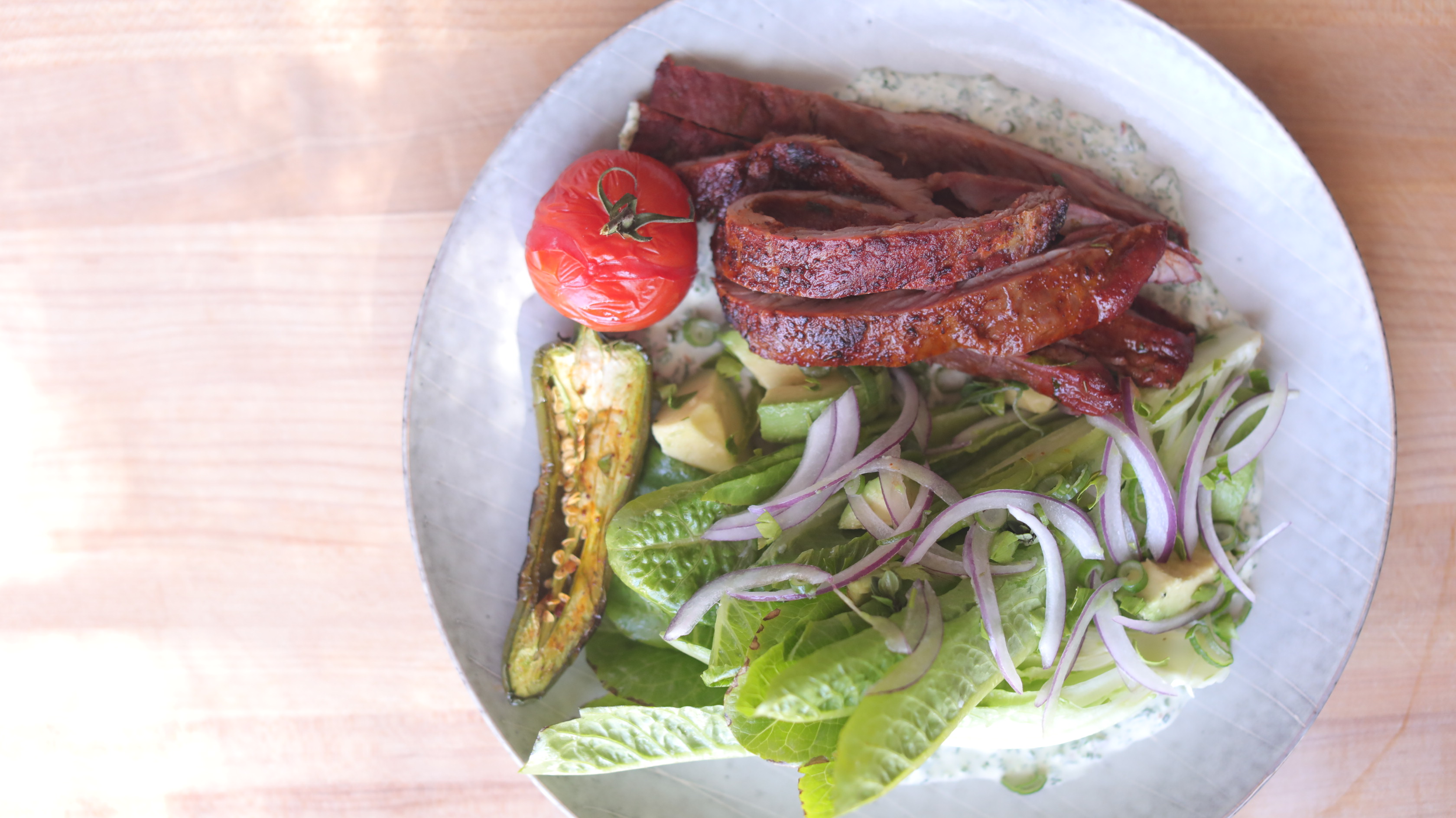 Ingredients:
2 lbs Carne de Ranchera
5 tbsp paprika
1 tbsp ground ancho chili, ground chipotle, and chili flakes
1 cup sliced yellow onion
2 tbsp chopped cilantro and parsley
2 tsp chopped thyme
3 tbsp olive oil
3 tbsp canola oil
2 tbsp salt
Dressing:
4 tbsp minced green garlic
2 tbsp minced cilantro and parsley
2 tsp chopped thyme
2 tsp chili flakes
1 whole lime zest and juice
2 tbsp sour cream
1/4 cup olive oil
1/4 cup canola oil
1 tbsp salt
water too thin…