After my last blog about the importance of shopping local small business, I decided now is as good a time as any to explore my new neighborhood for a great place to eat!
I'm certainly not a food critic, but I know what I like to eat and if I can share my good experiences with you–awesome!
The first restaurant I got the pleasure of going to was Mouthful Eatery in Thousand Oaks, CA.  It was the talk of the town on YELP and just my style, which is a smaller, more intimate, artisanal type of restaurant.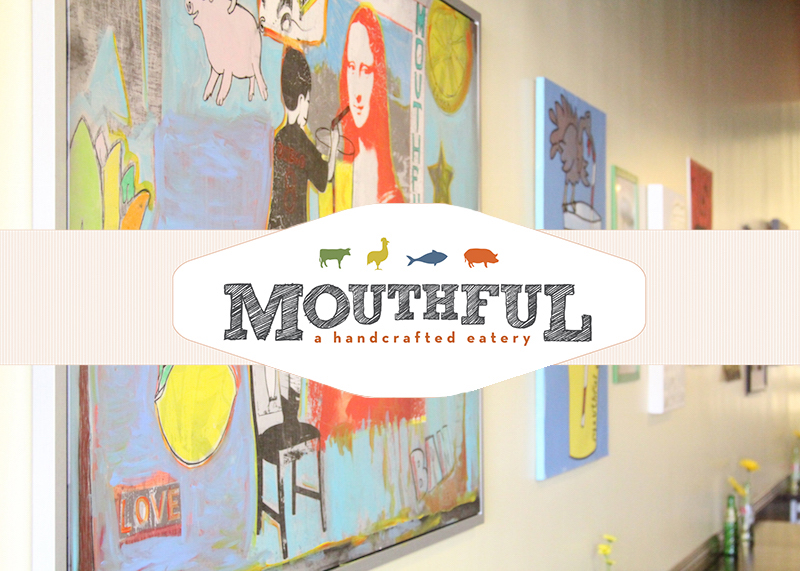 Mouthful definitely delivered! I met with one of the owners, Luis Alberto Sanchez, who gave me the scoop on how Mouthful Eatery came to be. He has years of experience in fine dining and explained that he always wanted to open his own Five Star restaurant, but only had the funds to open a Sandwich Shop. Luckily for us, he opened up one heck of a Sandwich Shop!
It's obvious from the beginning that this is food from the heart.  It's a mix of Luis's high end dining experience, his Peruvian background and a passion for fresh-quality-food.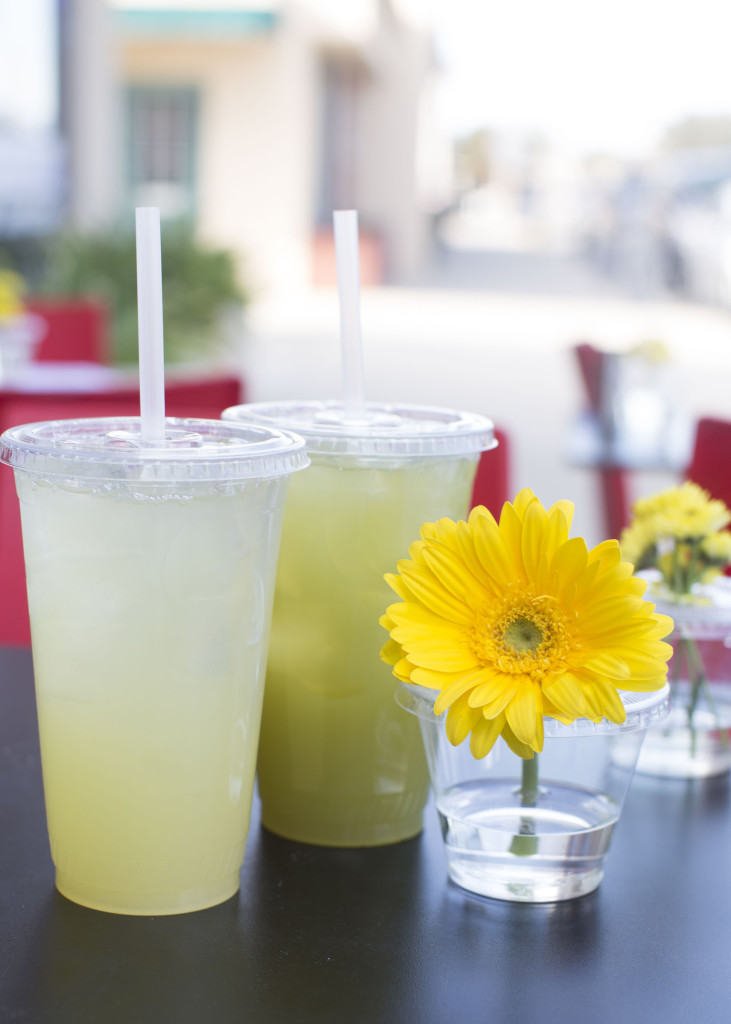 The first items we had were these refreshing lemonades.  My wife enjoy the Cucumber Mint Lemonade the most, while I was over the moon for the Pineapple Lemonade.  Besides the pulp factor of these drinks, you can tell they're made from scratch from the first sip. They're fresh and light, with just enough tart and sweet.  Its exactly what you would get if you juiced on your own, at home.  No concentrate here!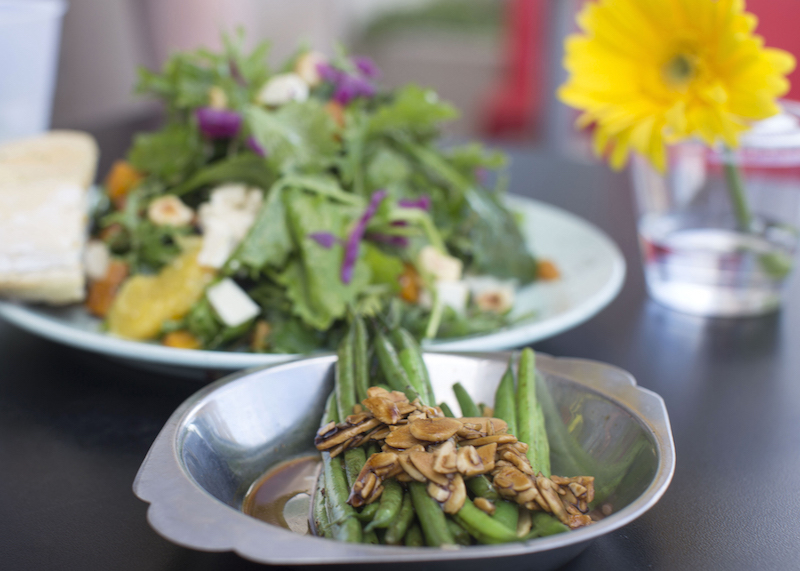 Next we had a few starters on the healthier side.  Both delicious.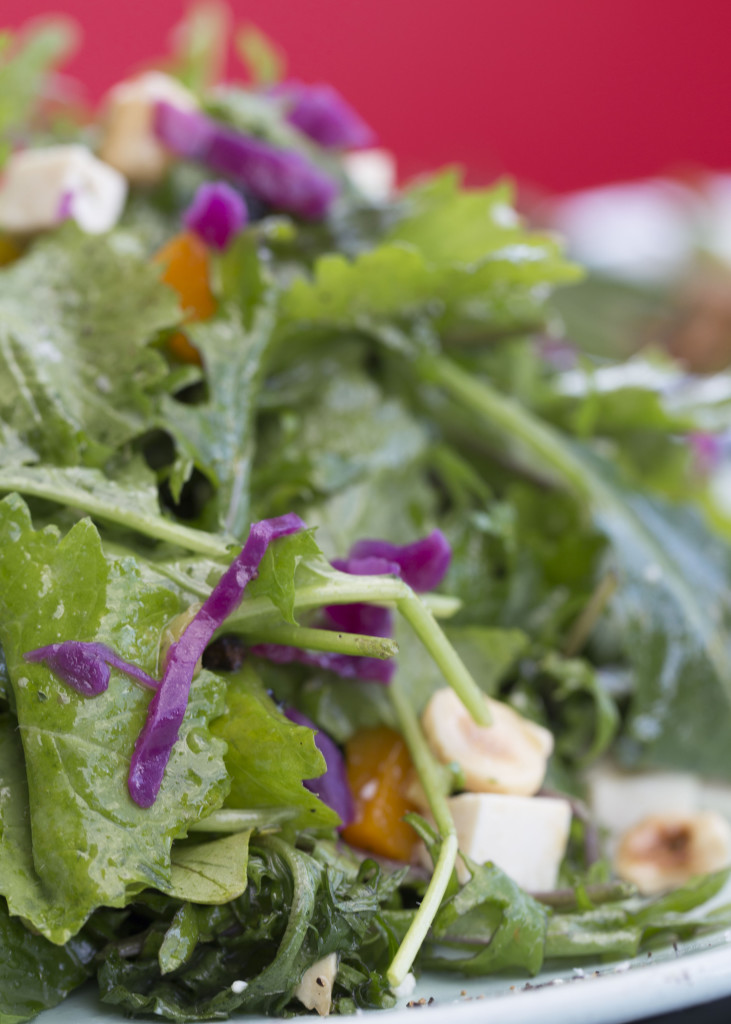 We had the "Hail to the Kale" salad, which was absolutely tasty! It's made with kale, organic tofu, roasted hazelnuts, valencia oranges, roasted mushrooms and butternut squash with a maple-miso vinaigrette. The flavor combination was entirely unexpected and unique in the best possible way. It has a nice level of acidity with the use of Miso and you cut through that with the sweetness of the maple and oranges. Really nice flavors and a great vegetarian option.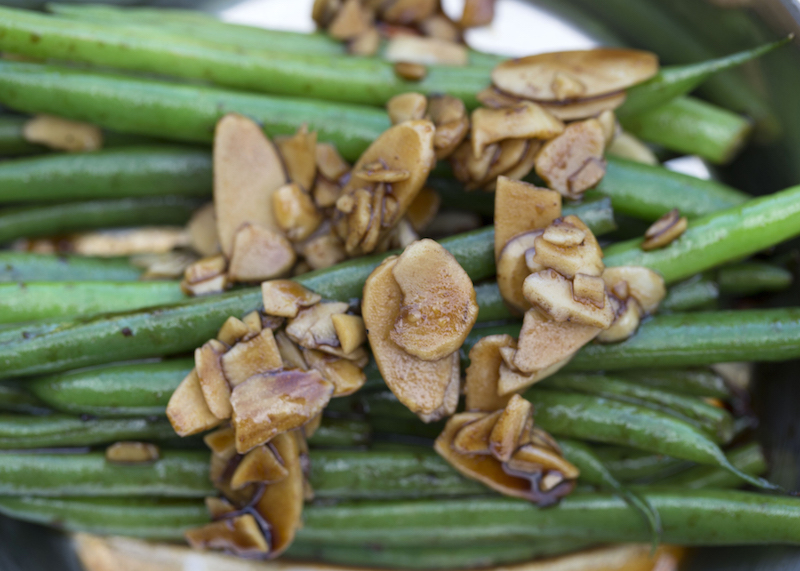 I'm already a big fan of Green Bean Almondines, I've made them on my channel before, and now I'm a fan of Mouthful's version as well.  Healthy, savory, fresh–classic.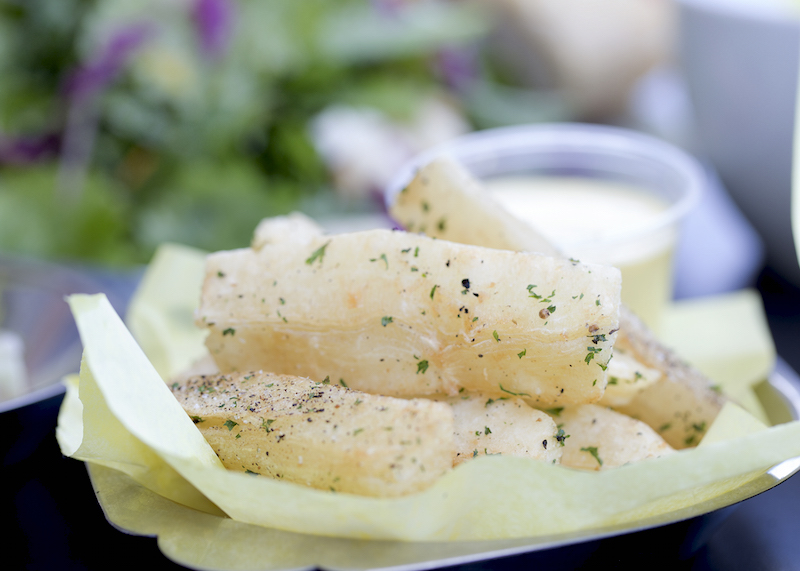 Next we had Yuca Potato Fries with a Peruvian cheese sauce.  If you've never had a yuca potato it is a nice mix between a mild sweet potato and a kennebec potato (white potato).
My favorite part of this dish was surely the Peruvian Cheese Sauce.  The flavor composition had me stumped, and for good reason.  The main spice used in the sauce was one I hadn't exprienced before–Peruvian Yellow Pepper.  It blended perfectly in the queso like dip.  Just enough spice and flavor to set it apart from the other cheese sauces I've had.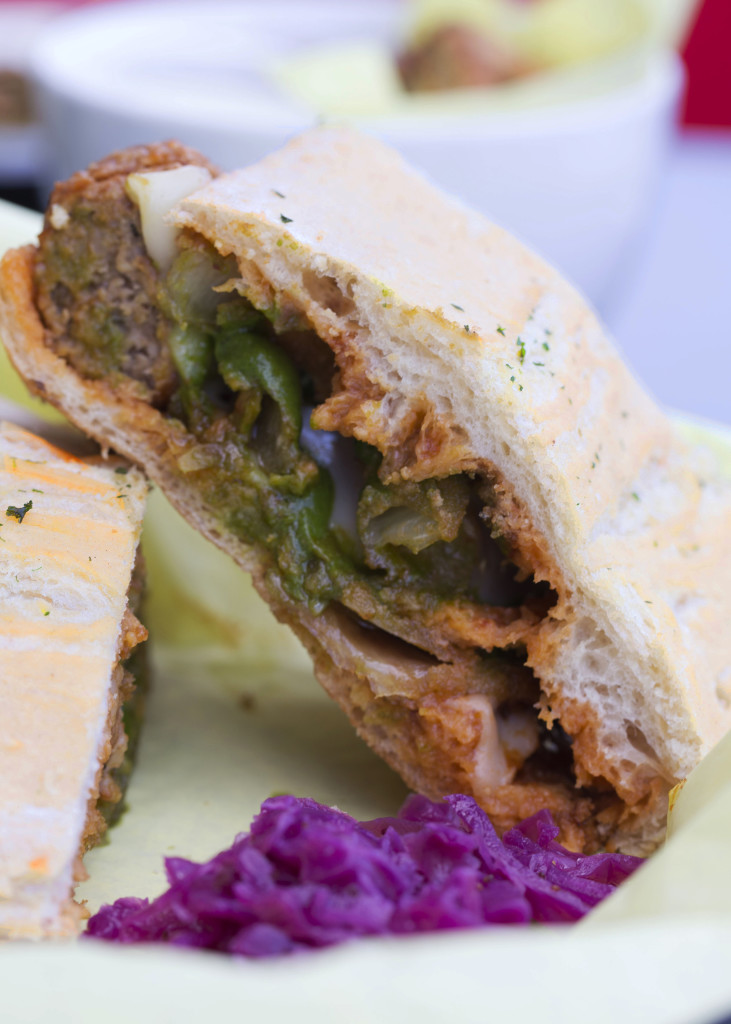 After the sides and salads were devoured, we tried three sandwiches off the menu; after all, this is a sandwich joint!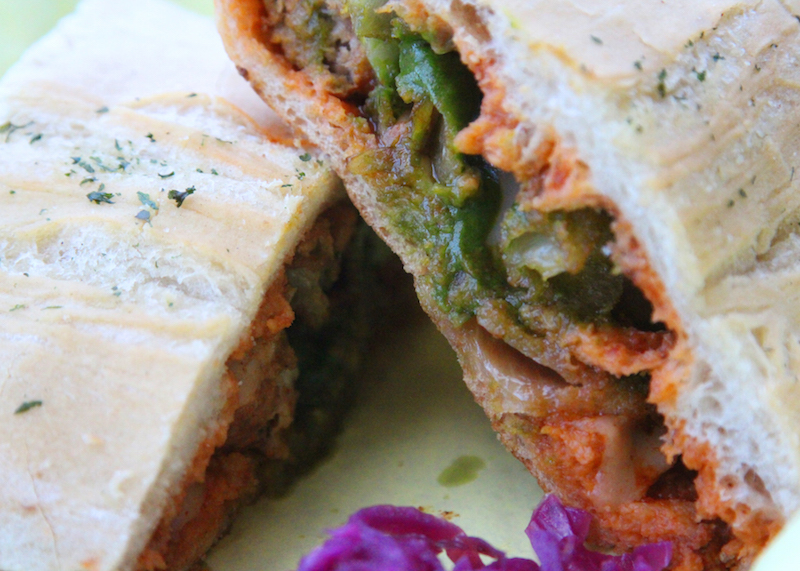 First up was the Albondigo, or Meatballs on Fire Sandwich, which led me to the conclusion that Mouthful really knows their audience.  The sandwich was made up of turkey meatballs, chipotle-tomato BBQ, melted
provolone, kale pesto and crispy onion rings.  Literally every component that is a top seller right now, in one sandwich. It was great! Nice combination of tender and crunchy, with just enough sauce to to keep the entire sandwich full of flavor, but not messy.
I noticed that the sandwich also came with a side of pickled cabbage, as did most of the dishes.  I'm definitely a fan, but its not something I see a often so I asked Luis about it.  He explained that when he work at Nic's Beverly Hills, patrons would frequently ask for sides of their pickled cabbage, which he soon became a mega-fan of himself.  He took note and now serves them as a tasty side with the dishes in his own restaurant.  Just another example of how this restaurant is a true representation of his life and experiences.  It's not a cookie cutter sandwich shop and I truly appreciate that.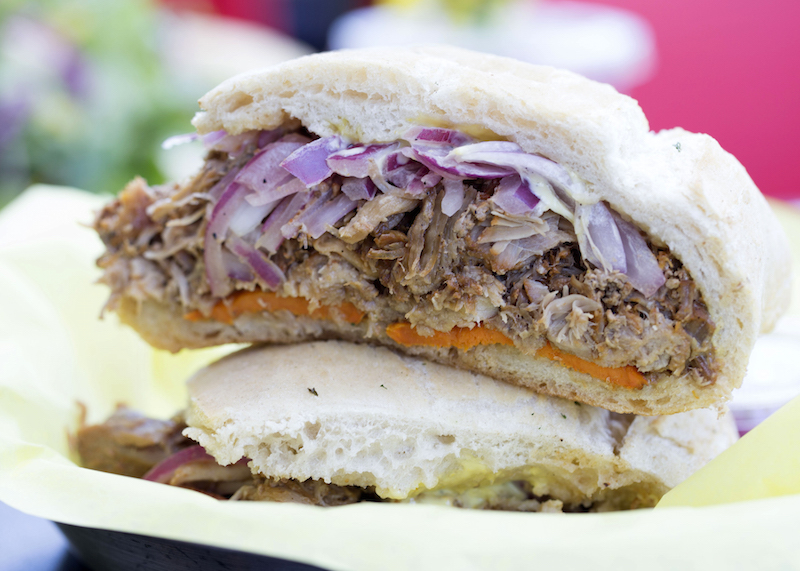 Second sandwich we had was the La Sarita, pork shoulder sandwich, made with roasted pork shoulder, sweet potato, pickled red onions and aji amarillo aioli. This was a SOLID pork sandwich. The pickled red onions are classic, the sweet potato was a great touch, and the carnitas was very high quality.  A trait I noticed about everything we were served at Mouthful–high quality ingredients.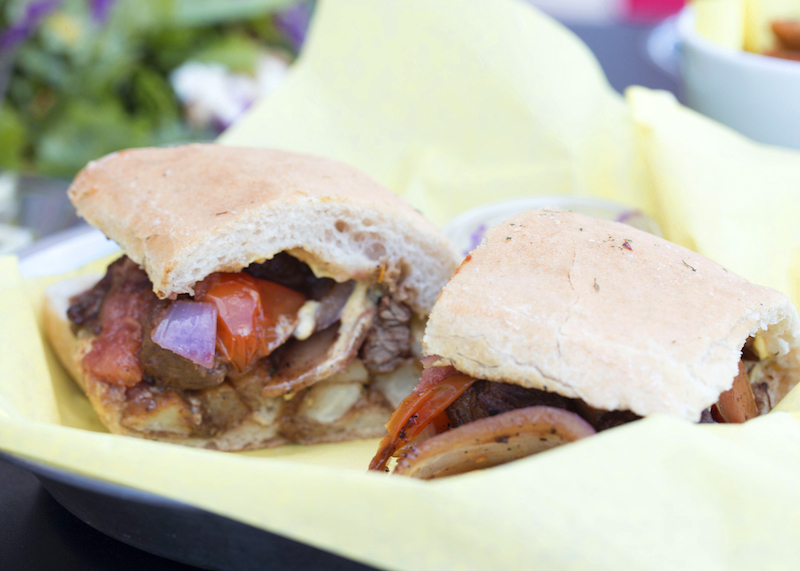 I saved the best for last! The Omo Saltado, or steak sandwich, was killer! If you're a steak and potatoes kind of person, this is the sandwich for you. High quality tender beef (angus skirt steak), amazing caramelized onions, and the perfect amount of steak fries IN THE SANDWICH! In one word, "delicious." I'll be having this one again and again!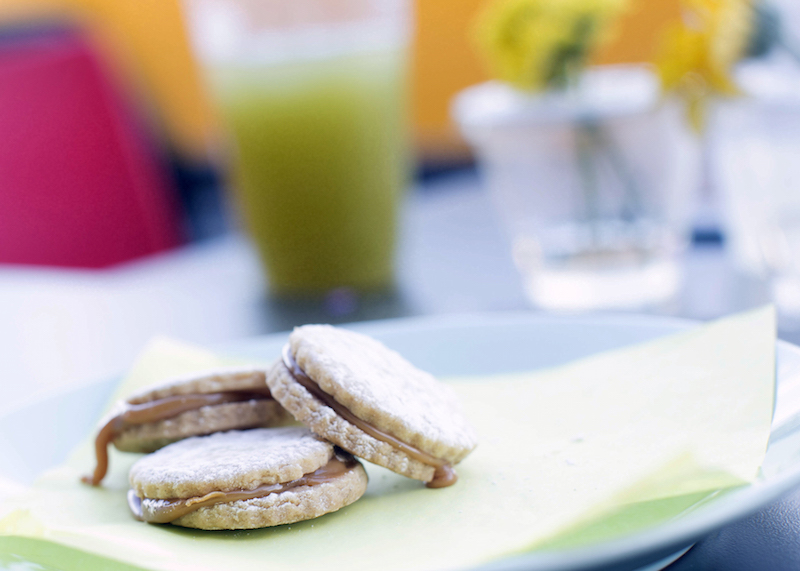 We finished off the meal at Mouthful Eatery with Carmel stuffed Peruvian Shortbread Cookies. Great way to finish off the meal.  I know how difficult a good shortbread is to make and Mouthful pulls it off exceptionally.
All-in-all, I had a great experience at the Mouthful Eatery and would highly recommend them to you.
Any eatery that understands the in and outs of high-brow dining AND appreciates a solid sandwich, is my kind of place.
---
---
If you have any recommendations for a great place to eat in the Los Angeles or Ventura County area, let me know!
I would love to take in all of the great eateries this town has to offer.