Here are a few delicious recipes from#ChocolateWeek's past! What would you like to see from me this time around?
---
Chocolate Ball:
1 Cup Dark Callebaut
Chocolate Chips
Optional:
Ice cream
Fresh Berries
Walnuts
Topping
Start off by bringing 1 cup dark callebaut chocolate chips to 101°F, using the double broiling method. Gently mix the chocolate as it slowly melt to ensure all of the solids liquify.
Once the chocolate is throughly melted and up to temperature, remove it from the stove and mix in a few chocolate chips to cool the mixture.
Gently stir in the chocolate chips until the mixture is smooth and approximately 89-90°F.
Once the chocolate is tempered to 89-90°F, pour the liquid into your chocolate mold about a quarter of the way up. Be sure to coat all sections of your mold. Then allow it to cool in the fridge for 30 minutes. Flip every 2-3 minutes to ensure is cools evenly.
Once cooled, remove from the mold.
I like to smooth out the middle seam with a warm spatula, but this is optional. If you prefer a shiny sphere, skip this step.
Next you will want to heat up a plate or pyrex container and gently press the sphere onto the dish, in order to melt the bottom of the chocolate globe. This should leave you with a perfect cavity to fill the sphere with whatever you desire.
Once the sphere is filled to your liking, heat your favorite topping and pour on top of the chocolate sphere. All that is left to do is enjoy!
---
Salted Chocolate
1/2 cup dark chocolate
1/2 cup heavy cream
1 tbsp butter
2 tbsps irish whiskey
2 tsps sea salt
Funnel Cake Batter
1 cup milk
1 cup all purpose flour
1 whole egg
2 tsps kosher salt
2 tsps baking powder
2 tbsps irish whiskey
1 tsp vanilla extract
Start by melting 1/2 cup of 60% dark chocolate, using the double boiler method, for about 5 mins or until it reaches 120°F.
Next emulsify 1/2 cup of heavy whipping cream and 1 tbsp of cold butter into the heated chocolate, constantly stirring to thoroughly mix these ingredients.
Once the mixture is emulsified add 1 tbsp of Irish Whiskey and 2 tsps of sea salt. Mix well and pour mixture into a squeeze bottle for later use.
In a separate mixing bowl add 1 whole egg, 1 cup of milk, 2 tsps kosher salt, 1 tsp vanilla extract and 2 tbsps of Irish whiskey. Give this a good whisk.
Add 1 cup of all purpose flour and 2 tsps of baking powder. Continue whisking until the batter is completely smooth. Then transfer the batter into a squeeze bottle.
Slowly squeeze the batter into a pan of frying oil (heated to 350°F), making small circular motions. Fry the funnel cake on both sides for about 2-3 mins.
Once the funnel cake is golden brown, transfer it to a paper towel and/or rack to drain any excess oil.
When you are ready to plate simply top the funnel cake with your salted chocolate, add a generous topping of powdered sugar, and there you have it, a delicious Irish Whiskey Funnel Cake with Salted Chocolate. Enjoy!
---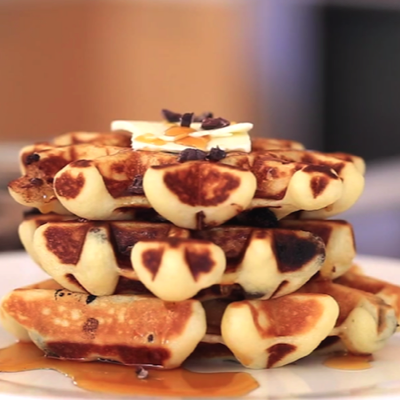 Ingredients:
1 whole egg
1/2 cup whole milk
4 tbps granulated sugar
2 tsps dry active yeast
1 cup all purpose flour
4 tbps melted butter
pinch of salt
1 tbsp vanilla extract (optional)
In a medium mixing bowl add 1 egg, 1/2 cup of whole milk, 4 tbsp granulated sugar and 2 tsp of dry active yeast. Whisk for 2-3 minutes, until thoroughly combined.
Add a 1/2 cup of flour and mix until the lumps dissipate.
Add another 1/2 cup and continue mixing until there are no remaining lumps.
Mix in 4 tbsp of melted butter.
Once you have a smooth mixture, cover the mixing bowl in plastic wrap and allow the batter to rest for about 1.5 hours.
Once the batter is proofed, add a few handfuls of dark chocolate chips and gently mix.
Add 1 generous scoop of batter to a preheated waffle iron at 450 degrees fahrenheit. Cook for 8 minutes, or until golden brown, flipping the waffle one time in between.
Add some butter, syrup, and all that's left to do is ENJOY!
---
Ingredients:
1/2 cup milk
1 tsp dry active yeast
1/4 cup sugar
2 cups flour
4 tbsp melted butter
1 whole egg
3/4 cup whole milk
2 egg yolks
1/4 cup sugar
1 tbsp vanilla extract
2 tbsp cornstarch
1/4 cup dark chocolate chips
3-4 tbsp whole milk
1 cup powdered sugar
2 tsp vanilla extract or paste
Warm up the milk in the microwave (or on the stove) to about 95°F then add it to the bowl on an electric mixer along with the granulated sugar and dry active yeast. Let this mixture sit for 20 minutes until it creates a layer of bubbles or foam on the surface.
Add the melted butter and egg to the bubbling yeast mixture and stir for a minute or so. Attach the dough hook to the mixer and turn on low speed. Slowly start to add the flour a 1/4 cup at a time. Once all the flour has been added, scrap down the sides of the bowl then continue mixing until the dough has formed into a silky smooth ball. This will take approximately 5-6 minutes.
Flour the surface of your working surface then take the dough out of the mixture, put into on the floured surface and begin rolling it out. Occasionally flour the top of the dough so it doesn't stick to the rolling pin. Punch the dough out with a large ring cutter, remove the excess dough, then cover with a damp cloth. Allow the dough to double in size which will take approximately 45 mins to an hour.
In a small sauce pan on low heat add the milk, egg yolks, vanilla extract, and sugar and bring up to 160°F making sure to constantly stir as its heat up. Once the it's reached 160°F add the cornstarch and turn the heat up to low-medium and begin to cook the custard until it get very thick. It should take about 5-6 minutes. Once it has thickened to a pudding consistency turn the heat off and scoop the custard into a piping bag fitted with a metal tip. Refrigerate for 30-45 minutes.
In a mixing bowl add the milk, vanilla extract, and powdered sugar and whisk until thoroughly combined.
Once the dough has doubled in size and is ready to fry fill a pot half way up with canola oil to 350°F, and begin frying the donuts. They'll take 4-5 minutes to cook and you should flip them at least 2-3 times during the cooking process to insure an evenly cooked donut. Once they're golden brown remove them from the oil and rest on a few dry paper towels or a wire rack to get rid of any excess grease. Let them cool down for 5-10 minutes before filling and glazing.
Pull the chocolate cream filling out of the fridge and begin to pipe it into the center of each donut. You'll have to get a little rough with the donut in order to really fill them up, so don't be to shy when shoving the tip of the pastry bag into the middle of the fried dough. Next, dip the tops of the warm filled donuts in the vanilla glaze and return them to the wire rack (or paper towels). Let these sit for 10-15 minutes in order for the glaze to set up then ENJOY!!!
---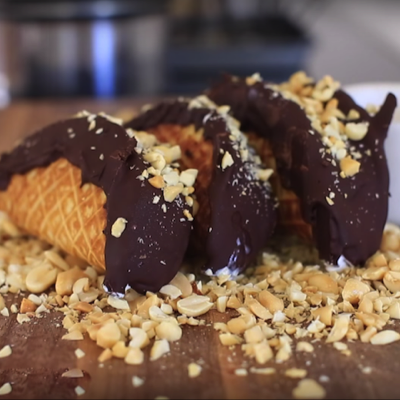 Ingredients:
2 whole eggs
1/2 cup sugar
1/3 cup all purpose flour
3-4 tbsp whole milk
1/4 cup melted butter
1 tbsp vanilla extract
pinch of salt
1 cup melted dark chocolate
1/4 cup chopped roasted peanuts
1 qt of store-bought ice cream
Add two whole eggs and 1/2 a cup sugar to a medium mixing. Give it a good whisk.
Mix in 3-4 tbsp whole milk, 1 tbsp vanilla extract, 1/4 cup melted butter, 1/3 cup all purpose flour, and pinch of salt.
Continue to whisk for until there are no lumps. Preheat your waffle iron and coat it with a bit of canola oil—so the batter doesn't stick. Once the waffle iron is hot, pour a small scoop of the batter into the center of the mold (about 4 in. in diameter). Close the machine and cook until the batter is a deep golden brown. While hot, mold the waffle cone into taco form. Repeat process for desired amount of choco waffles (recipe is for 3 servings).
Allow them to cool and become firm before handling. Once cool coat the inside of each shell with a good serving of melted dark chocolate. This will keep the shells from becoming soggy when you fill them with ice cream.
Allow the shells to set up in the freezer for about 10-15 mins.
Once the chocolate is set, pipe a generous portion of your choice of ice cream. I enjoy a rich and creamy vanilla. Use a pastry spatula to gently smooth the excess ice cream evenly across the top of the waffle shells. Put these back into the freezer and allow it to set up for about 2 hours.
When the ice cream is set, remove from freezer and dip the tops of the waffle tacos with the remainder of the melted dark chocolate.
Sprinkle with chopped peanuts and return to freezer to for about 20 mins.
Once the chocolate has set, dig in!


---
Enjoy!