In a recent collaboration with Catherine McCord of Weelicious, we joined forces to make a couple of "Au Natural," dye-free desserts! She made a scrumptious Creamy Avocado and Lime Parfait and I made a classically delicious Mint Chip Ice Cream. Both recipes are absolutely DECADENT and nutritious!
The entire experience reminded me of how easy it is to use a natural food colorant, as opposed to the petroleum based food coloring that we generally use, which is non-sustainable and lacking nutrition.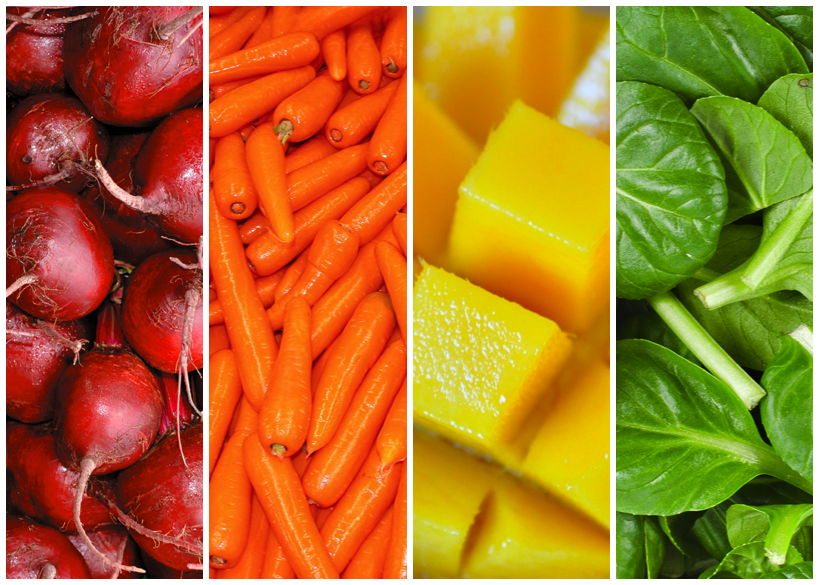 In a world overcome with artificial additives and nutrient-bare substances, it's ESSENTIAL to take on a natural alternative as often as possible! Using these simple tips and tricks, you can make any color on the spectrum, using all natural ingredients, that will NOT affect the taste of what it is you're making.
Let's get started!
---
Red:
It's important to note that natural food coloring tends to yield lighter shades than petroleum based colorant. Regardless, it produces a wonderful array of appealing hues without altering flavors.
For RED, the easiest and strongest colorant is made by juicing or boiling red beets. Using the juice or liquid, simply strain the liquid to remove any solids (using a fine strainer or cheese clothe), and you have an all-natural colorant that can be used in just about anything.
NOTE: If your dish is more sensitive to the addition of any liquid or you want a more vivid hue, you can make any of these colorants more concentrated by reducing the juice/liquid into a syrup. To do this, simply pour the juice/liquid into a sauce pan on medium heat and reduce until the colorant has a syrup-like viscosity.
---
Orange:
Obtaining an ORANGE hue is just as simple. Juicing carrots will provide you with a natural dye alternative that will emit NO additional flavor when used moderately.
Like I said, for a more saturated color, reduce the liquid into a syrup. This will produce a more vivid color, without changing the properties of the dish.
For a lighter shade of orange, or any color, you can use the un-reduced liquid/juice. A little goes a long way.
---
Yellow:
YELLOW can be made using an assortment of methods. I like to stick to as few methods as possible to keep things simple. Using the juicing method, as done above with red and orange, juicing and straining mangos produces a yellow colorant that can be added to any dish without the risk of adding additional flavor.
Another common method is to use heavily colored spices, like turmeric or saffron, as a food colorant. A little will go a ways, so add in a sprinkle at a time to achieve the desired color, without adding enough to change the flavor components of the dish. This method can use some experimenting, but will get the job done!
---
Green:
GREEN can also be obtained using an assortment of methods, but the most common is to use juiced spinach.
Spinach already has a VERY mild flavor, so when used as a food colorant you are essential ensuring that the taste of your colored dish will be unaffected.
Liquid chlorophyll is another natural alternative to green food coloring and is quite effective, PLUS nutritious. Down side would be the price. Liquid chlorophyll is a health supplement and tends to be a bit pricier, but is highly effective.
---
Purple and Blue:
Of all the colors, BLUE is the hardest to achieve (even in a lab), but is definitely obtainable using a two step process. Lucky for us, this two step process kills two birds with one stone by yielding a purple dye AND a blue dye.
By boiling chopped red cabbage for about 20 minutes, or until the liquid has turned dark purple, you have a perfect PURPLE food colorant.
Taking this a step further, blue food coloring is made by adding baking soda, a pinch at a time, to the purple colorant. The purple colorant will react with the baking soda and yield a brilliant sapphire blue.
---
Remember, all-natural food colorants will produce lighter hues. The coloring process can be magnified by reducing the colored liquid to a concentrated syrup, but at the end of the day you will need to experiment.
By experimenting with the methods above, you can achieve just about any color.
Be sure to check out Catherine's blog, Weelicious, for even more tips and tricks! You can catch both of our recipes on Youtube:
Creamy Avocado and Lime Parfait
ENJOY!